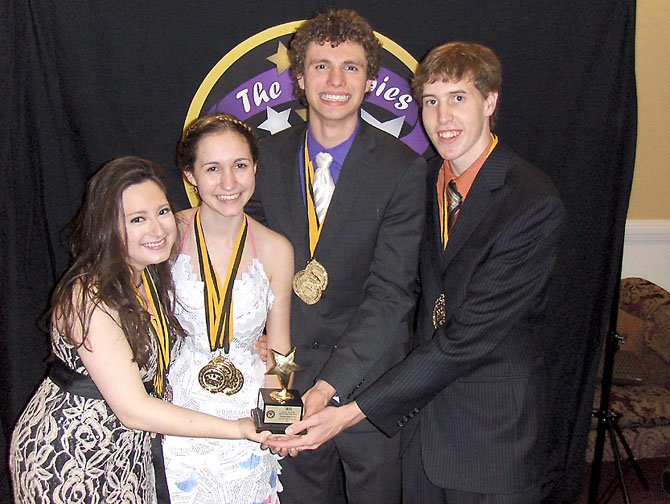 Photo Gallery
Chantilly, Westfielf Win Big at Cappies Gala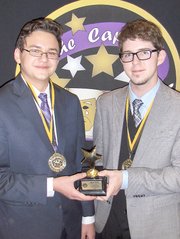 Chantilly and Westfield high schools each won two awards at the 14th annual Cappies Gala, Sunday night, June 9, at The Kennedy Center in Washington, D.C.
Click Photo for Flash
Chantilly and Westfield high schools each won two awards at the 14th annual Cappies Gala, Sunday night, June 9, at The Kennedy Center in Washington, D.C.
Westfield received starry statuettes for Lead Actor in a Play and Creativity, and Chantilly took home the trophies for Supporting Actress in a Play and Set. Robinson Secondary captured the Best Musical honor for "Hairspray," and Madison won Best Play for "Lend Me a Tenor."
WESTFIELD HIGH
Senior Mitchell Buckley received the Cappie for Lead Actor in a Play for his performance in Westfield's drama, "Flowers for Algernon." He portrayed Charlie Gordon, a 32-year-old mentally challenged man with a 68 IQ.
In the play, Charlie undergoes an experiment that raises his IQ to genius level. But after starting to get used to his new life — and even falling in love — he begins to revert back.
Sunday, with Cappie award in hand, he said, "I'm just so happy. Everybody put so much work into the show and the Cappies program recognized that. I think it shows that working together with the rest of the cast definitely paid off." After graduation, Buckley will attend Emerson College in Boston where he'll major in acting.
The Cappie for Creativity went to seniors Alex Mann and Joe Drzemiecki. Mann mainly developed the show's original music which Drzemiecki played live and intertwined within the production. Mann called winning this honor "pretty cool. It's such nice recognition. Seeing the music finished was an accomplishment, in itself. But it's always nice to win an award."
Added Drzemiecki: "I didn't go into it with the idea of winning an award, so this is an interesting outcome."
CHANTILLY HIGH
Receiving the Cappie for Supporting Actress in a Play was junior Brooke Johnson for Chantilly's "You Can't Take it With You." It's a funny and heartwarming story of the eccentric Sycamore family in 1937 New York. The daughter falls in love with the son of a wealthy banker and hilarity ensues.
Johnson played a strong woman, but someone believable in the context of that time frame. She was both "surprised and excited" with her golden statuette.
"It was so surreal; I didn't expect it, but I'm thrilled," she said. "It's my own shining star. My part was supposed to be a male and I did it as a woman with a Russian accent, so the Cappies critics were impressed."
Josh Lutz, Chloe Vasquez, Drew Pardo and Mia Rickenbach won the Sets Cappie for designing the inside of a huge, two-story house. They created "rooms" behind doors and hallways to make the home more realistic.
Vasquez called their Cappies victory "amazing. It was a collaborative effort on all of our parts. Each of us is talented in different ways and we came together to make this set happen." It was her second Cappie for Sets; she also won for "Stage Door" as a sophomore.
Lutz praised his fellow team members. "They really inspired me, and I'm thankful to be on this team with them," he said. "And I thank everyone at Chantilly who helped build the set; we couldn't do this without them."
"I'm really glad to have been a part of set construction for the past four years," said Pardo. He also expressed appreciation to Theater Director Ed Monk "for everything he taught me ever. He's a fantastic teacher."
Rickenbach thanked the others for letting her participate, sharing their knowledge with her and "being the wonderful people they are." And, added Vasquez, "We all want to thank Mr. Monk for supporting and inspiring all of us."
VOCAL DIRECTOR, CHOREOGRAPHER
Also honored with Cappies on Sunday for their 10 years of service were the Cappie Gala's vocal director, Jan Lunsford, and choreographer Jennifer Koonce. Before retiring, Lunsford was Centreville High's choral director for 13 years. Koonce taught special ed and choreographed FCPS theater productions.
"I'm really excited," said Lunsford. "It was a surprise to both of us, so it was a joyful feeling to go onstage together and receive an award for something we've worked so hard on for so long."
Koonce said they're always thrilled to be part of the Cappie performers' excitement. But, she said, "It's neat to be recognized. I see it as an honor for all of us and for the singers' and dancers' program."