Grace Thomas, a long-time Springfield resident, died April 19 in Haverhill, Mass., of natural causes. She was 82. Thomas was born on June 13, 1930, in Saunderstown, R.I. The former Grace Lorena Matterson, she married Walter R. Thomas in 1950. They were married for 59 years.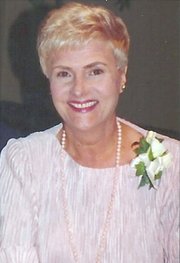 Thomas was the Ladies Auxiliary VFW Outstanding Community Volunteer of the Year for 2006. She was well known at Post 7327 in Springfield, where she worked all aspects of VFW Bingo operations and made many dear friends among her "Bingo family."
Thomas is survived by her son, Robert Thomas, and her daughter-in-law, Brenda Thomas, of Haverhill, Mass.; and her grandson Sean Thomas and daughter-in-law Susan Thomas, of Ft. Collins, Colo. She is pre-deceased by her husband, Captain Walter R. Thomas and by her son, Rick Thomas.
The graveside service will take place at Arlington National Cemetery, at 10 a.m. on Friday, June 21. All attendees are asked to arrive at the Administration Building (off Memorial Drive) by 9:30 a.m. on Friday, June 21. In lieu of flowers, the family is asking that donations be made in the name of Grace Thomas to the Cure Alzheimer's Fund, via http://curealzfund.org/ or by mail to Cure Alzheimer's Fund, 34 Washington St., Suite 200, Wellesley Hills, MA 02481.