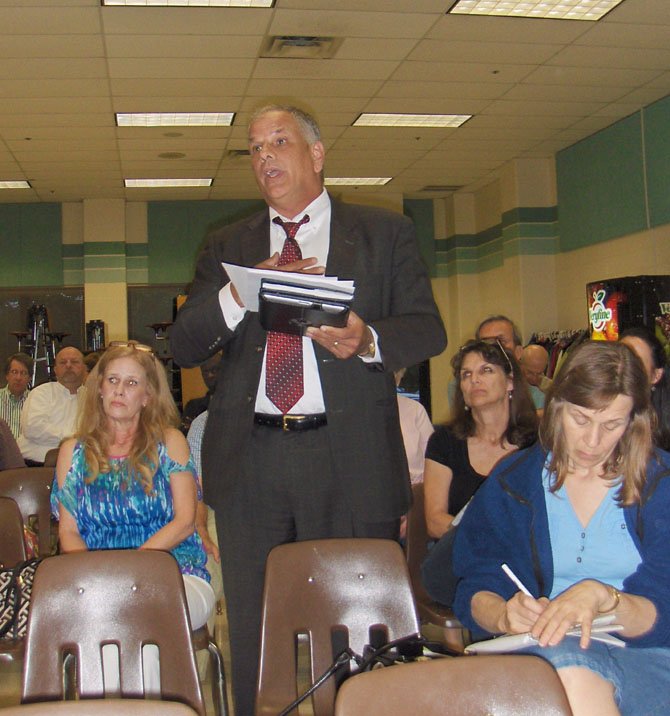 Centreville — Residents who live in the vicinity of the Braddock/Pleasant Valley roads intersection have a multitude of reasons why they don't want it made quicker by constructing a roundabout.
"Once you improve it, more traffic will come down Pleasant Valley," said Virginia Run's Walt Dougherty at last week's meeting. "Then its speed limit would have to be reduced to 25 mph because there are a lot of children and bikes."
Agreeing, Rebecca Brazier said she has three children and worries about the traffic speed on Pleasant Valley. "We need to cross it to get to the swimming pool, and it's scary," she said. "I'm concerned that the improved intersection will increase traffic on that road. Children who live in Virginia Run get bused to school now because it's too dangerous to cross Pleasant Valley."
"If this intersection's sped up, some people who now cut down other roads will use it," said Jim Hart. "We can get through now to go north. But if there's a steady stream of traffic from Loudoun at the circle, we'll never get through it."
Calling it "an extraordinarily significant location," he said it's in the Occoquan down-zoned area designated such by Fairfax County to protect the drinking-water quality. "Pleasant Valley Road is a scenic byway and people value the environmental issues," said Hart. And if the grading and hydrology is changed, he said, it could affect the environment of a rare plant there, the flat-stemmed spikerush.
There's also a possible funding conflict. VDOT's Bud Siegel said this project received $600,000 from the federal Highway Safety Improvement Program (HSIP). But Virginia Run's Ted Troscianecki said HSIP's guidelines clearly stipulate that its funds are to be used on public roads "to achieve a significant reduction in traffic fatalities and serious injuries."
"There's no documentation of any of this at that intersection," he stressed. "So if HSIP funds are for safety, why is that money being used here? That's an inappropriate use of these funds; they're federal funds that are supposed to be used for something else."
Judy Heisinger said VDOT's guidelines say roundabouts shouldn't handle more than 1,600 vehicles/hour, traffic volumes should be equal in both directions and traffic-circle speeds should be slow. But, she said, "There's too much volume now, the traffic going east-west is more than the north-south traffic and people are doing 40 mph. So this roundabout would quickly be overwhelmed."
Evan Smithgall, president of the Fairfax National Estates homeowners association, said a roundabout shouldn't be built. Instead, he said, "Put a timed light in there to slow down the South Riding traffic."
After the residents presented their objections, Barb Coleman of Pleasant View Estates asked Siegel and Supervisor Michael R. Frey (R-Sully) to "Please pause, step back and take a look at these things. Please hear what we're saying."
But Frey said he has to listen to all the residents, not just them. "I also represent the people in the neighborhoods off Braddock who don't want their road being the main one," he explained. "And I can't stop the Loudoun County traffic."
He also said he doesn't have the authority to stop this project since it's being done by the state and the Commonwealth Transportation Board allocated money for it. But he urged the residents to contact the CTB via their delegates and said he'd "make sure all this information is passed on to VDOT."
And Sen. Dave Marsden (D-37th), also at the meeting, said residents could contact him, too, at district37@senate.virginia.gov. "This has been a great meeting tonight because your voices were heard," he said. "This is serious stuff because it affects you – but it affects a lot of other people, too."
Added Frey: "We'll try to do the best we can and we'll continue to listen to you."