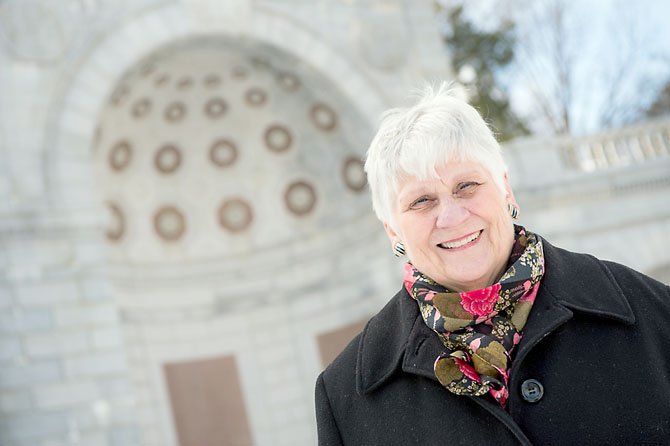 In Performance
Storyteller Ellouise Schoettler will perform a one-woman show about Arlington National Cemetery 7 p.m. June 14 at the Athenaeum, 201 Prince St. A coffee and dessert reception will follow. Cost is $10. Visit nvfaa.org or 703-548-0035.
Alexandria — Storyteller Ellouise Schoettler will perform her one-woman show, "Arlington National Cemetery: My Forever Home," at the Athenaeum on Flag Day, June 14, at 7 p.m.
"Arlington National Cemetery: My Forever Home" tells the story of how Schoettler began exploring the stories of those buried with her 3-year-old daughter, Gretchen, and husband James A. Schoettler, M.D., who served as chief of psychiatry at Andrews Air Force Base during the Vietnam era. Her husband was buried at Arlington National Cemetery last August.
"We were married for 57 years so you can imagine that I have been visiting him a lot, and that got me thinking about our Forever Neighbors and noticing the living who spend a lot of time there visiting them," she said.
Through her research, she found there is "a lot of life in Arlington National Cemetery" — from caretakers who strive for perfection in their task to honor and preserve the memory of those interred to the service men and women's family and friends as well as other visitors.
She has included these stories along with her own in her performance.
One of the caretakers she spoke with said that he enjoyed working at Arlington National Cemetery because there is always something going on. It has between 25-30 burials a day. In addition, thousands of families and others come to visit their loved ones and friends.
"Down in Section 60 where the new casualties of the Iraq and Afghanistan conflicts are buried ... you see children running around and young families. And you are very aware that there is fighting going on," she said.
During her exploration of Section 60, she met the parents of a young man who served in Afghanistan who drive eight hours almost every holiday and stay for the weekend to spend with their son.
"Arlington is about service and sacrifice made by these military men and women and it is also about family," she said.
One of her favorite personal stories in the performance is about seeing her grandson Danny wearing her husband's dancing shoes as he walked behind his grandfather's casket.
She also found that people would leave little tokens such as rocks with inscriptions on them on top of the tombstones. Schoettler began collecting pictures of these tombstones.
"Every one of these tombstones has a story," she said.
Seeing the families visiting their loved ones reminded Schoettler of going to visit her grandfather's grave with her mother and grandmother back in Charlotte, N.C.
In addition, her performance will also highlight the ritual and history ingrained in the national cemetery.
"One of the things I love most is seeing the horses during the funerals. It is the only cemetery that uses the caisson and horses to take the casket to the grave site," she added.
The caisson is a wagon used to bring ammunition to the battlefield and to take away dead bodies during the Civil War.
Through this performance, she hopes that audience members will come "to value and appreciate the history of Arlington Cemetery and that it is as special today as it has ever been."
This summer she also will be performing her story at the D.C. Capital Fringe in July.
Schoettler has a bachelor's degree from Dunbarton College of the Holy Cross in Washington and a MFA from American University. She performs across the country and has two cable shows ("Stories in Time" and "Stories in Focus") on Channel 16 (Montgomery County).