Photo Gallery
Taste of Potomac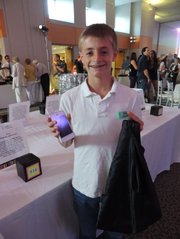 Click Photo for Flash
Potomac — A courageous 15-year-old, Arlene Reles, addressed an audience of more than 300 at the 2013 Taste of Potomac benefit for Adoptions Together on Saturday, June 8. The teen told the story of her life before adoption and how it felt to be in foster care.
But now, Arlene and her brother Andreas finally have doting parents. They were adopted four years ago by Lora and Michael Reles of Round Hill, Va. Now 15 and 14, they are active at their high school; Arlene is a cheerleader and Andreas is a soccer player. Everyone in the family is a sports enthusiast, and they can be found either playing sports or attending sporting events together. The siblings are smiling and self-assured — thrilled that they finally have found an important relationship in life. They have what every child deserves — a loving forever family.
The Taste of Potomac was held this year at the Julia Bindeman Suburban Center. The room was transformed into a Studio 54 Disco scene with bright lights, glittery tables and iridescent lights.
Gourmet tastings from 25 Potomac area restaurants were a highlight, as were the many silent auctions and raffle items.
The Masters of Ceremonies, Leon Harris and Steve Buckhantz, kept everyone entertained as they introduced the honoree of the evening, Marty Janis, Janice Goldwater, founder and executive director of Adoptions Together, and the honored guests of the evening, the Reles family. Chris Martens served as "auctioneer extraordinaire" and music and dancing was provided by DJ Extreme.
Marty Janis, president and CEO of Atlantic Services Group, was honored for supporting Adoptions Together for the past six years. Janis is active in community and philanthropic causes, working with both D.C. Foster Children and Training Grounds to provide brighter futures for underserved children and adults. His mantra is "Get involved: You will get back more than you can ever give."
Many of the attendees have found their "forever families" through the support of Adoptions Together. Laura and John Elsey of Bethesda adopted their son Ray with the help of the agency. They already had three birth children (Polly, Jake and Millie) but Laura had always wanted to adopt a child. After they moved to the U.S. from England, they decided the time was right and they would adopt through the U.S. foster care system. They researched adoption agencies and found that Adoptions Together offered everything they needed. Laura Elsey explained why they chose it: "Adoptions Together is a very unique agency, as they don't just help you identify a child and then leave you to it — many adoptions are disrupted when families find that they can't cope with some of the issues that surround adopting an older child, which equates to another heartbreak and loss for a child. When you adopt, you need to give your new family the very best chance to survive as a unit and be happy and successful.
"We took one look at the photograph and film of our son, Ray — we call him our Ray of Sunshine — and fell in love. Have there been bumps in the road? Sure, but then, there are bumps on the road for every parent, whether your child is your birth child or your adopted child. Ray moved in with us on Nov. 6, 2009 — a day we called "Forever Friday" — and the adoption was finalized in May 2010. Ray is a lovely lad and is thriving — he just joined Boy Scouts, is a happy student at the British School of Washington and is also working towards his black belt at Tae Kwon Do, under the mentorship of Master Coles. If we hit any bumps, it's very comforting to know that we can pick up the phone and get advice and help from the team at Adoptions Together."
"We were actually planning on adopting a younger girl but, as Janice Goldwater, founder of Adoptions Together, always says, 'In the end, you get the child you were meant to have.'"
Adoptions Together offers a number of family support services. Their guiding principle is "no child in need of a family will be turned away and families will have the support and guidance they need to thrive." Adoptions Together is seeking families who would like the opportunity to change the life of a child by becoming a "forever family." Mature adults of all races, religions and family structures can make excellent parents. Opportunities are also available to serve in a volunteer capacity. For more information, contact Adoptions Together at 301-439-2900. The website is www.adoptionstogether.org.