Ryan Cheng, Langley rower and graduating senior, received the Hillary J. Fein Spirit Award for the "athlete who best embodies the true spirit and passion for crew."
This honor is awarded every year by Langley crew to honor the memory of Hillary Fein, Langley Class of 1999. Fein was a dedicated member of the Langley crew team who died in 2000.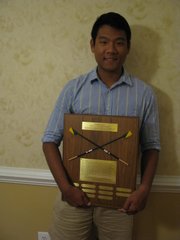 Words engraved on the plaque from a diary entry made by Hillary in 1996 after the Stotesbury Regatta in Philadelphia read in part, "Today … we realized what 'team' means … honor, heart and honesty about pulling your best and never giving up. I am dedicated to this sport forever. You don't win a race on the water, you win a race in your heart."
In addition to the Fein Spirit Award, Cheng earned several other awards and honors. Among his academic accomplishments, he is a National Merit Scholarship finalist and also received a Scholar Athlete award. He was a finalist in numerous science competitions, including the Science Olympiad (state champions 2012, national qualifier 2012, second in state 2013) and the Science Bowl (second in state 2013).
Ryan was part of the Langley Men's Varsity four-seat that finished second in the VA state championships and went on to place ninth at nationals.
He will attend UVA in the fall and plans to row at the school.
In addition to achieving a very successful season on the water (six state championships), other Langley crew athletes also received top honors. Thirty-six students received Scholar Athlete awards, which represents a 3.5 GPA or better. Twelve crewmembers received top honors in different academic categories at the Langley Academic Awards ceremony on June 3.
Nirosha Beekhuysen, Outstanding Musicianship—Symphonic Orchestra
Ryan Cheng, National Merit Scholarship Finalist
Samuel Child, Outstanding Achievement—Drama III
Stephanie Dubois, AP language and composition, and French 4
Collin Hanley, Excellence in Music
Adam Imran, Excellence in World History II
Alexander Kiess, Excellence in English 1
Lauren Kim, Outstanding Leadership in Orchestra Freshman
Minh Pham, Outstanding Student in Honors Biology
Jennifer Rossberg, AP English Lit, AP French, the Brigitte Lavey Award (History)
Sierra Webb, accepted into the Coast Guard Academy
Adele Wheeler, Excellence in AP English Literature
And junior Stephanie Dubois received an honorable mention for the Washington Post "All-Met" team for rowing.