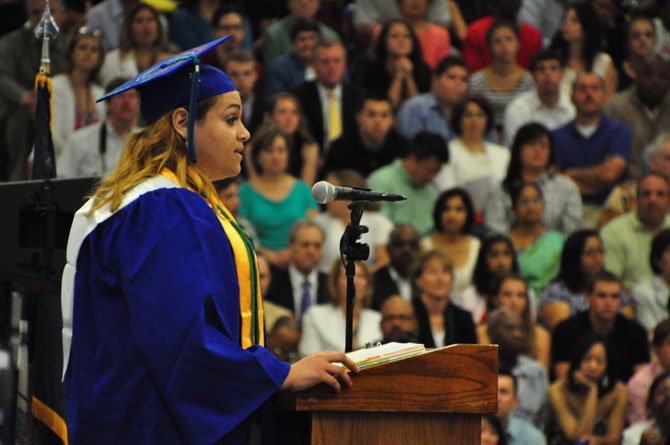 Reston — The South Lakes High School Class of 2013 gathered for the final time as students at the school, leaving the building that evening, Friday, June 14, as South Lakes alumni. Five hundred and twenty eight seniors graduated, including 104 students who graduated with the International Baccalaureate diploma, 119 honor graduates and 23 who are the first in their family to graduate from high school.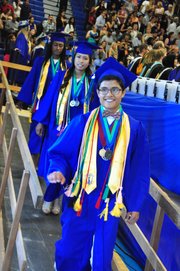 "I had the privilege of being this class's assistant principal for two years," said South Lakes Principal Kimberly Retzer, who was named principal last July. "I remember them coming to this school as freshman, standing outside of the office, looking as if they were wondering if they belonged here. Looking out among them now, I can see they found their way."
The class is already working toward finding their way at the next level, as the members of the class have collectively been awarded more than $15 million in scholarship dollars. The class also included two exchange students, one from Germany, one from Japan.
Class President Nicole Rappaport recalled September 2009, when the class came to South Lakes, and said she was proud to watch the group's evolution over their high school careers.
"Sitting in front of me is a group of individuals who can do anything they want in their lives," she said. "They've shown the ability, intellect, drive and passion to accomplish anything." The Class of 2013 voted English teacher Alison Shreck to give the faculty address. "Part of becoming an adult is that slowly, over time, walking the path of the ordinary, you realize that life is not happening somewhere else, at someone else's party, someone else's job, someone else's career. That it's in your everyday choices, and it's full of opportunity," she said. "The world does not need students who want instant success, it does not need students who want accolades simply by pushing buttons on a smartphone. It needs people who can walk the ordinary road and become the person they want to be."