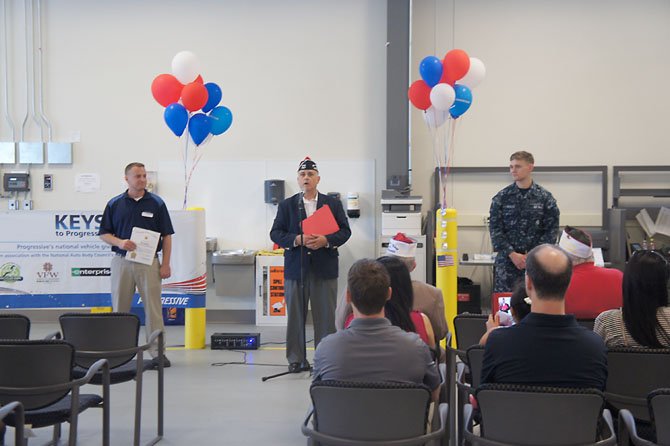 Through the collaborative efforts of several local companies, Keifer Wolfe, a local military member training to be a Navy SEAL, was presented with a free Ford Escape at the Progressive Insurance building in Springfield on Wednesday, June 12, in order to replace his current transportation means—running, public transportation, and borrowing his friend's cars—with a car of his own.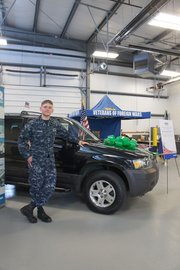 Progressive Insurance presented 59 other recipients with cars across the United States on Wednesday. Springfield's local recipient's car would not have been possible without Progressive's collaboration with Enterprise Rent-a-Car, the Veterans of Foreign Wars (VFW) Springfield Post 7327, and several other local partners.
Enterprise Rent-a-Car provided Keifer Wolfe with $200 worth of gas and six months of covered insurance, while Tan Auto Body provided paint and bodywork and LKQ Corporate of Northern Virginia donated the transmission and new and recycled parts for the vehicle. Famous Dave's finished off the event by providing barbecue for the crowd, which came to support Wolfe and the efforts of the community.
Gary Kelch, post commander of the VFW Springfield Post, described the community effort as "heartwarming" and thanked the local companies who contributed for "supercharging" the efforts of the VFW because, "we would not be able to do this alone … community involvement is key." The Veterans of Foreign Wars organization is dedicated to serving and helping veterans. Community members can help out by playing bingo at the Springfield Fire House on Thursday and Friday nights where the proceeds go to the VWF of Springfield and the local fire house.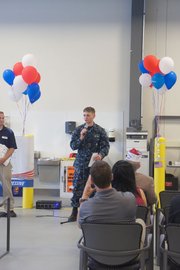 Marilynn Bianco, the VFW project officer who worked closely with Progressive to help find a local, deserving recipient of the car, said she contacted the USO of the Metropolitan Washington Area in order to find Keifer Wolfe. He currently volunteers at the Ft. Belvoir Community Hospital ER and also helps support his mother after the loss of his father. He had trouble getting to his volunteer work and training in the past, with his alternative modes of transportation being running, public transportation, or borrowing friends' cars. In response to this gift, Wolfe says he will no longer be restricted by transportation and would like to thank his friend and program coordinator at the USO, KJ Stevens, Progressive, Enterprise, and the VFW.