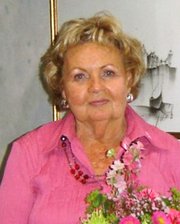 Mildred Lynn Herrman,"Millie", 77, Pawley's Island, S.C., died on May 30, 2013, at Waccamaw Hospital surrounded by loved ones. She was born April 27, 1936, the daughter of Bunny and Chick Lynn of Washington, D.C., grew up in Washington, D.C., and Takoma Park, Md. and graduated from St. Patrick's Academy in 1954. She worked at the U.S. Tax Court and the Fairfax County Schools from 1974-1983. She and her husband, Herb, lived in Alexandria from 1956 until they retired to Pawley's Island, S.C. in 1983.
Millie was a devout Catholic and an active member of Precious Blood of Christ Catholic Church. Among Millie's interests was golf, reading, poetry, entertaining and socializing with family and friends, she especially loved her hard shelled crabs. She also had a natural flair for writing and loved sharing her opinions with her letters to the editor. Growing up in D.C., Millie developed a love of politics that lasted her entire life. Millie also volunteered her time at Habitat for Humanity, Miss Ruby's Kids, and Hospice.
With Millie's bubbly personality and tender heart, she touched the lives of many people. Millie never met a stranger. Those who knew and loved Millie will remember her for her love of family and friends and her delightful quick-wit. Throughout her life, people were drawn to Millie for her contagious enthusiasm for life, feisty sense of humor and positive attitude.
She is survived by, her loving husband of 58 years, Herbert Herrman; sister, Pat Heflin of Alexandria, and children, Cindi Fagan of San Diego, Calif., Sue Grolton, of Williamsport, Md., Gruff Herrman of Toms Brook, Va., and Katie Bowers of Stafford, Va.; grandchildren Kevin Grolton, Molly Grolton, Coleton Herrman, Ricky Fagan, Amanda Bowers and Sam Bowers.
Service and inurnment was at Precious Blood of Christ Catholic Church on Wednesday, June 5.
In lieu of flowers, memorial contributions may be sent to The Habitat for Humanity of Georgetown County, S.C., 1907 Hampton Court, Georgetown, SC 29442.