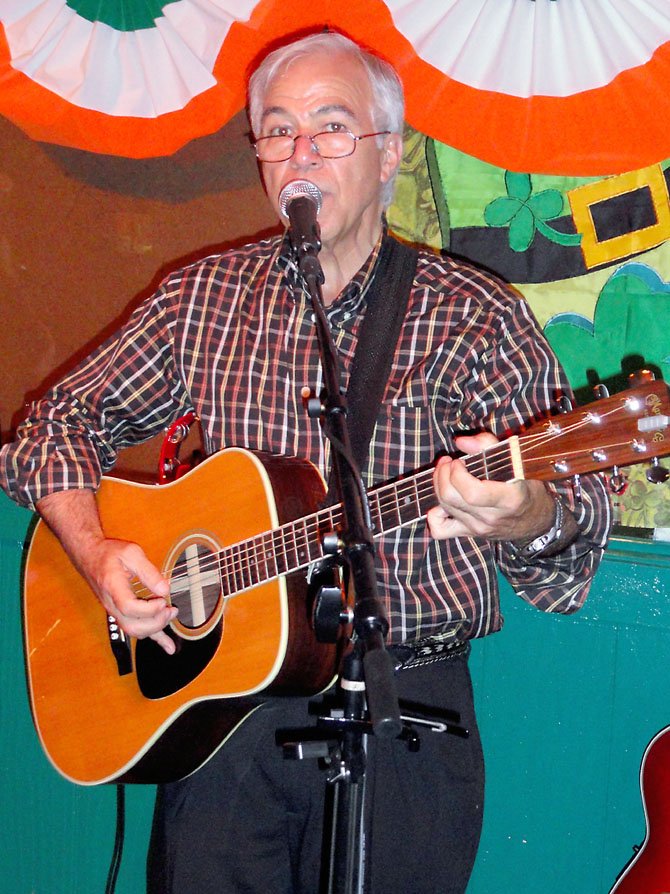 For about six years, Jim Bellas, 65, of the district, has organized the Open Mic Night on Wednesdays at Kate's Irish Pub in Springfield's Concorde Shopping Center. Anyone can sign up to play for free on Mondays and Wednesdays from 7:30 to 11 p.m. The sets usually last between 10-15 minutes and include three to five songs.
Bellas was in a rock band in high school and college but now is the CEO of Diplomatic Languages Services. Besides organizing bands, he also plays guitar and sings: "It's completely outside of what I do for my day job. When you perform live, it elevates your game," he said. "There's something about playing in front of a live crowd."
The Open Mic Night caters to the 35- to 50-year-old crowd. The more mature bands range from rock to country to bluegrass, with everything in between. Live bands like Choptank Murphy, Amanda Murphy and the Lost Indians, and Dave Berry have performed there. In addition, there are live bands performing Thursdays through Saturday nights.
Jeff Long, 42, of Alexandria, plays guitar and sings in the Carter Farm Boys, a five-piece country-rock band. As a break from being a Ph.D. chemist at the Navy Research Lab, Long says he enjoys performing live. "It feels like a family," he says. "It's got a great atmosphere with friendly people."
Jim Lane, 50, of Arlington, works as an engineer for a Navy contractor by day. By night, he performs alongside Long on guitar and vocals. "It's a super-friendly and supportive environment," he said of Kate's. "It ends up being a community of regulars."
He says playing impromptu music with other musicians gives him "a rush." In fact, the venue encourages impromptu groupings. Musician Larry Tapper will spontaneously start playing harmonica with the Carter Farm Boys, without even knowing the songs.
Jim Clark, 61, of Fairfax, has performed for 20 years with Ted Murphree, 65, of Springfield, in the duo Ted & Jim, an Irish and contemporary folk group. He got serious about music after his divorce in 2005 and after retiring as a tax attorney on Capitol Hill. He calls Kate's open mics "cathartic," and says the P.A. system is good.
Pam Ferguson of Annandale is a 30-year violin professional who played with Old Town Tradition. She stopped by Kate's after teaching violin lessons at Springfield Music and Arts. "It's a nice big room with a nice feel and interesting characters," she says.
Skip Riggins of Alexandria plays bass and guitar. He says he enjoys the atmosphere of Kate's: "It's a brotherhood and sisterhood; it's a delightful place."
Kate's is open seven days a week, from 11 a.m. to 2 a.m. The bar offers $2.50 drafts for Happy Hour 4-7 p.m. daily. There are 11 beers on tap and nine bottled beers. It specializes in Irish-American fare, including fish and chips ($11.99), corned beef and cabbage ($10.99), and Reuben sandwiches ($8.99).
Kate's Irish Pub is next to Fischer's True Value Hardware at 6131 Backlick Road, Springfield. The restaurant is managed by brothers Michael, 56, and Charlie Mooney, 49, both of Springfield. With seating for 145 people, it's named for Michael's daughter Kate, now age 21. Call 703-866-0860.