It was a celebration of the arts when the Workhouse Arts Center hosted its Summer Art Party on the Quad on Saturday, June 22 in Lorton. The Art Party included art projects, storytelling for grownups, music, bubble art, interactive history, artist demos, tours of the former Lorton Prison and a community pillow fight.
Photo Gallery
Summer Art Party on the Quad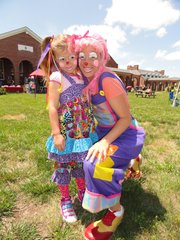 The Workhouse Arts Center held its annual summer arts festival June 22. Art forms from across the world converged on the Quad in Lorton to celebrate the conventional and unorthodox in their mediums.
Click Photo for Flash
It also featured booth exhibitors and timed activities such as an Art to Wear Fashion Show by the Workhouse Fiber Artists, Jazzercise demonstrations, an Instrument Petting Zoo and art exhibitions, including the opening reception of 360 Degrees of Post-Traumatic Stress.
"This is about engaging the community with activities on the Workhouse campus for the family," said John Mason, president and CEO of the Workhouse Arts Center.