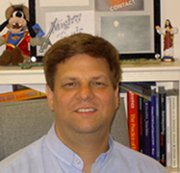 Mount Vernon — Pastor Robert. L. Lewis, Jr. will be celebrating his first year at Messiah Lutheran Church in Alexandria with a summer sermon series entitled ,"What's Faith, Why Faith?" based on the book in the Bible known as The Letter to the Galatians. The sermon series will be during the regular Sunday Worship at 10 a.m.
Messiah Lutheran called Lewis in June of 2012 and he began his ministry the following month. He came to Messiah Lutheran after serving at Emmanuel Lutheran Church in Bethesda, Md. as the pastor for youth and family for eight years.
Lewis is also an adjunct professor in the Department of Communications, Humanities and Philosophy at the University of Maryland, University College where he began teaching ethics in 2006.
Lewis grew up as a "military brat" graduating from a Department of Defense High School in Incirlik, Turkey. He also served as an Aviation Survivalman in the U.S. Coast Guard.
Messiah, located at 6510 Fort Hunt Road, is a worshiping community of the Evangelical Lutheran Church in America. The church was founded in 1953.
More like this story