Photo Gallery
Del Ray Music Festival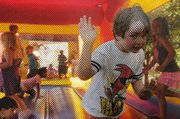 Click Photo for Flash
Alexandria — Hensley Field is one of the city's most popular recreation sites, with three baseball fields and one multi-purpose field nestled between the Capital Beltway and Eisenhower Avenue just west of Cameron Run.
But that may change soon.
Last week, a developer known as the St. James Group submitted an unsolicited proposal to construct a new entertainment and recreation facility on the city-owned property. The developer has already scheduled a community meeting to sell the idea to the public.
"This is putting the cart before the horse," responded Mayor Bill Euille. "We are moving too fast here."
The proposal for the 15-acre site includes aquatics, ice rinks, field house, baseball, basketball, racquet, golf, climbing, gymnastics, track, wellness services, childcare and retail. But it would also cut into the city's supply of open space, a move that would come at a time when council members recently ditched a dedicated source of funding for purchasing new open space.
"It's not like we are growing land like some people grow beef," said Vice Mayor Allison Silberberg.
While some members of council feel that it's too soon to start having community meetings to sell community members on the proposal, Councilman Tim Lovain said the What's Next Alexandria Initiative suggested Alexandria should work to involve community members earlier in the process rather than later.
"Here it is. This is our chance to involve the community earlier," said Lovain. "The alternative is to hush it up."
The community meeting is scheduled to take place at the Holiday Inn on Eisenhower Avenue at 6:30 p.m. on July 1. Council members are expected to determine whether or not they want to issue a request for proposals in the fall.