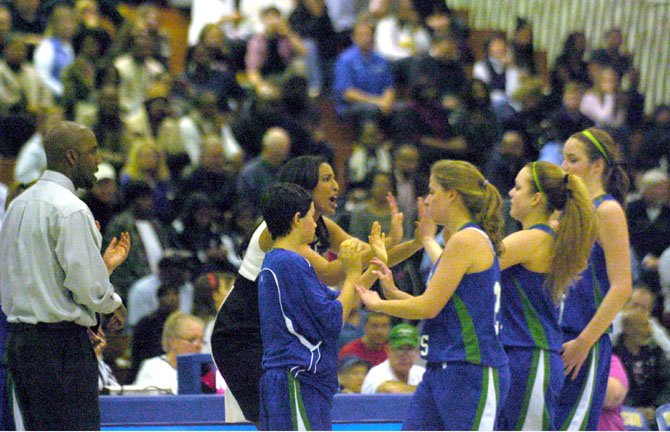 Fairfax — South Lakes junior Sasha Sprei beat the buzzer with a jumper at the end of the Friday's AAA state quarterfinal contest against Stonewall Jackson, which was decided by two points. But unlike the Northern Region tournament, when the Seahawks won three games by a combined five points, a last-second bucket didn't lead to a South Lakes victory.
The South Lakes girls' basketball team's season ended with a 55-53 loss to Stonewall Jackson on March 1 at Robinson Secondary School. The Seahawks entered the fourth quarter with a one-point lead, fell behind by seven and later pulled within two. South Lakes trailed by no more than six points during the final six minutes of the game, but couldn't find a way to reach the state semifinals in Richmond. Stonewall held a four-point, two-possession lead in the closing seconds, meaning Sprei's jumper affected only the Raiders' margin of victory.
Junior center Abigail Rendle led South Lakes with 16 points. Sophomore forward Princess Aghayere finished with 11 points, senior Mary Severin had 10 and Sprei added eight.
South Lakes defeated Chantilly (42-40) in the opening round of regionals, knocked off Mount Vernon (46-45) on a Caitlin Jensen buzzer-beater in the quarterfinals and edged Oakton (48-46) in the semifinals by a combined five points. After relinquishing a 17-point lead during a 60-52 loss to Edison in the region championship game, South Lakes ended its season with a two-point defeat.
"I think that the kids really dug down," South Lakes head coach Christy Winters-Scott said. "Obviously you want to cut nets and obviously you want to win, but to have the roller-coaster endings in the postseason, we did what we needed to continue. … We made the plays throughout games necessary to win them down the stretch."
South Lakes' five region and state playoff games were decided by a combined 15 points.
"Not everyone thought we'd go as far as we did and even though we didn't win regions or states, this season showed us what we can accomplish."

--South Lakes junior Sasha Sprei in an email.
"Being involved in these big games is exciting and nerve-racking at the same time," Rendle wrote in an email. "Your adrenaline is running and the crowd is shouting and you can feel the time ticking away, but you know you have to stay calm and execute the plays. When you win it's a great feeling, but if you lose in a close game, it hurts. However, you learn from your mistakes and take what you did learn and improve for the next game."
SOUTH LAKES FINISHED the regular season atop the Liberty District standings before suffering a three-point loss to Madison in the district tournament semifinals. The Seahawks bounced back to reach the region final and advance to the state tournament. South Lakes' final record was 23-6.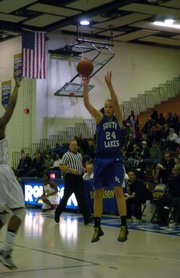 "The season we had was amazing," Sprei wrote in an email. "Not everyone thought we'd go as far as we did and even though we didn't win regions or states, this season showed us what we can accomplish."
South Lakes will lose two seniors from this year's team: Severin and Gabrielle Schultz.
"Apart from remembering the wins and losses, making it to the region finals and state tournament, as well as the personal recognition, I will remember the life lessons I learned from varsity basketball the most," Schultz wrote in an email. "Having been a leader and a competitor, I will definitely carry those aspects of the game over into my future."
Severin referenced memories from early and late in her varsity career.
"What I will remember the most about my career is being on the varsity team as a sophomore and working hard to get a starting spot on the team, which is what I wanted," Severin wrote. "I will also remember this season. To have the team go to regionals and states my senior year was awesome. I couldn't have asked for a better season and a better team. I will remember the great coaches I had and my teammates that made the season the best one I have ever had."
THE SEAHAWKS will return most of their roster next season. While athletes gained experience from this year's close games, they also gained motivation from tough losses.
"The losses to Madison, Edison and Stonewall by that small of a margin left a bitter taste in our mouth," Jensen wrote in an email, "so it is motivation to work even harder this offseason to really take our team to the next level next season."