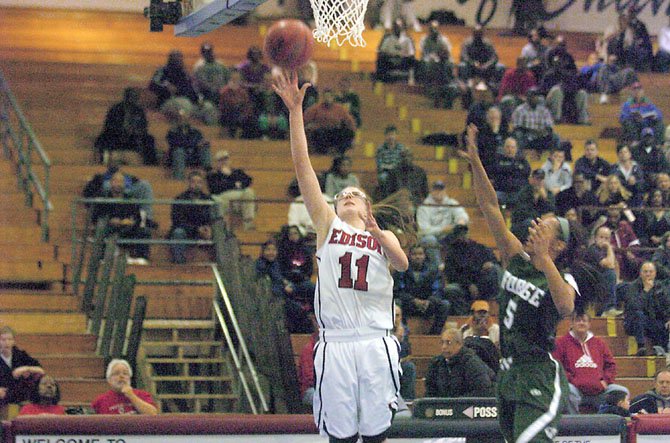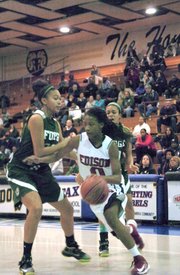 Fairfax — The Edison girls' basketball team trailed South Lakes by 17 points in the first half of the Northern Region final on Feb. 23. Undeterred, the Eagles cut the deficit to eight by halftime and eventually came back to win the program's first region title since 2007.
On March 1, Edison found itself trailing 23-6 when Colonial Forge's Nia Washington buried a 3-pointer in the opening quarter of the teams' AAA state quarterfinal match-up. For the second time in six days, Edison erased a 17-point first-half deficit—this time at a much faster pace. Freshman guard Jada Graves' three-point play near the end of the first quarter sparked a 20-2 Edison run and the Eagles took a 26-25 lead on a bucket by Raven Moses with 3:17 remaining in the second quarter.
But unlike Edison's cut-the-net comeback against South Lakes, Colonial Forge was able to withstand Edison's push.
AFTER FALLING BEHIND, Colonial Forge closed the first half on 13-4 run and led for the entire second half en route to a 58-52 victory on March 1 at Robinson Secondary School, ending Edison's season. Edison pulled within two when a Graves 3-pointer cut Colonial Forge's lead to 41-39 with 3:50 left in the third quarter, but Edison would get no closer.
"We couldn't get that flow to go," Edison head coach Dianne Lewis said. "With South Lakes, when we were able to start to close the gap, we had a good flow and we built off of that momentum. Today, we had a little momentum going and then when [Colonial Forge] scored and made their second run, I think that kind of deflated us a little bit. With a young team, you're going to see that and you always have to keep them encouraged and you always have to keep them going."
Graves scored 23 points against South Lakes in the region final, including 22 in the second half. In the state quarterfinals, Graves did most of her damage early, scoring 17 of her team-high 22 points in the first half. She went scoreless for the final 11 minutes and 50 seconds of the contest.
"This is only the beginning. We'll learn from what happened tonight. We're going to continue to build and get better and come back stronger next year."

--- Edison freshman Jada Graves
"They were on me more," Graves said about Colonial Forge's second-half defense. "They made sure they had an eye on me."
After the game, Lewis praised Graves, who was named MVP of the Northern Region tournament.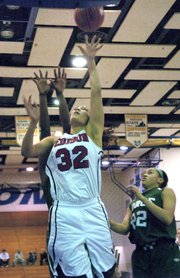 "There were a couple times she asked us to take her out and I told her no," Lewis said. "She just needed a break. One time I said, 'Your break right now is in between quarters and I'll call a timeout another time for you to get a blow,' and she doesn't complain about that, she's going to play through it. She's the type of kid that anybody wants on their team."
Graves is one of many reasons Edison's future appears bright. The team will lose just one senior—6-foot forward Sheila Sherrill—and had a combined nine freshmen and sophomores on this year's team.
"This is only the beginning," Graves said. "We'll learn from what happened tonight. We're going to continue to build and get better and come back stronger next year."
Sherrill scored six points in her final high school game. Freshman guard Megan Hendrick scored 10 points, freshman forward Moses scored six, sophomore Lindsey Krisak and freshman Tierra Cochraham each had three and sophomore Julia Eversole had two.
EDISON won its first nine games of the season and finished with a 24-5 record. The Eagles finished National District runner-up to Mount Vernon, which handed Edison three of its losses. The Eagles defeated Woodson (56-29), Madison (63-33), Centreville (58-53) and South Lakes (60-52) on their way to a Northern Region championship with a roster composed of five freshmen, four sophomores, two juniors and one senior.
"I told the girls I'm very proud of them," Lewis said. "No one can take that regional championship away from you despite whatever happens today. I thought we had a great season, a great run and we'll get better in the off season and look to come back."