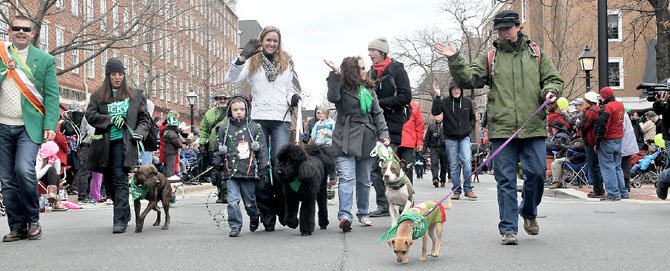 Photo Gallery
St. Patrick's Day Dog Show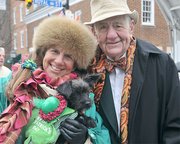 Click Photo for Flash
Alexandria — More than 100 dogs and their families arrived at Market Square for the annual Fun Dog Show on March 2. The categories changed a little this year to include: waggiest tail, prettiest eyes, handsomest male, prettiest female, best senior, best groomed, most in need of a bib, most Irish looking and dog/owner look-alike.
This year's master of ceremonies, Dr. Katy Nelson of "The Pet Show with Dr. Katy," left the judging to the audience and the applause meter. Capitol Heels co-owner Bobby Mahoney assisted on stage. At the conclusion of the show, the dogs and their families walked together down King Street to start the annual St. Patrick's Day Parade.
Lucky Dog Animal Rescue, non-profit animal rescue organization dedicated to saving the lives of homeless animals and educating the community on responsible pet ownership, was the primary beneficiary of this year's event. See luckydoganimalrescue.org.
Fun Dog Show sponsors included Capitol Heel, Your Dog's Best Friends, Barkley Square, Dogma, Dogtopia, ABC 7 – News Channel 8, Creative Liquid Productions, DoggieWalker.com, Nature's Nibbles, Old Towne School for Dogs, Fur-Get Me Not, Izalia Spa and Ahart, Frinzi & Smith.