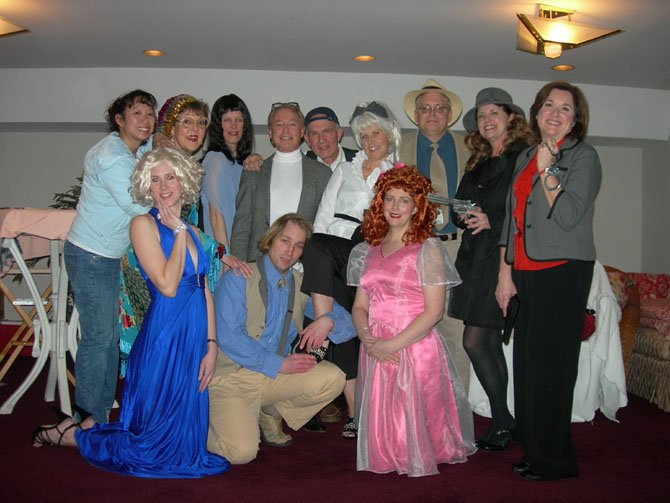 Mystery, intrigue and laughs are all on the menu when the Clifton Dinner Theater presents its new show, "Murder Me Always." And two Fairfax residents have starring roles.
Performances are slated for March 14-16, at the Clifton Town Meeting Hall, 12641 Chapel Road in the Town of Clifton. Shirley's Catering of Clifton is providing the dinner, all three nights, and wine and beer will be available.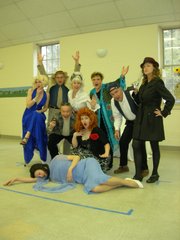 Tickets for dinner and the show are $35 for Thursday, March 14, and $40 for Friday through Saturday, March 15-16. Doors open at 7 p.m. for cocktails; dinner and the show begin at 8 p.m. Tickets may be purchased at Clifton businesses T&K Treasures, Clifton Cafe, A Flower Blooms in Clifton, and The Clifton Wine and Tasting Shoppe.
"There's a play within the play," said Clifton's Lynne Strang. "It's a humorous murder mystery with lots of local references. The story's about a community theater group working on a murder mystery called 'Murder Me Always.' And in the middle of it, there's a real murder of a cast member. So then the task is to figure out who the real murderer is."
EACH ACTOR has a role in the show and in the play within a play; Strang portrays Felicia Fontaine. "She's a rather pompous, self-important woman," said Strang. "After the murder, all the actors become suspects, and a couple detectives try to figure out who did it."
She said the play contains music and humor and is fast-paced. "The audience will enjoy the action scenes, and it's also interactive," said Strang. "The audience members are the party guests; and later, they'll try to figure out amongst themselves who did it. And the set transforms so that the audience finds themselves in a completely different setting by the end of the production."
Teri Pierce of Fairfax portrays Trixie, initially an undercover police officer. But after the murder takes place, she begins investigating. "She's serious and wants to get to the bottom of what's happened," said Pierce. "I love my part because it's my first dramatic role. I've done community theater for over 20 years, but always in musicals. So this is a new challenge for me."
She said all the cast members really like their parts and "it reflects in their work. They're really funny personas and I think that makes the audience enjoy it more."
Playing Detective Josie Mamet is City of Fairfax resident Terri Grimes-Marin. "She takes everyone in the show to the next step," said Grimes-Marin. "I love the 1940s time period, so I'm playing her as a throwback to then—like a cross between Humphrey Bogart and Catherine Zeta-Jones. So she's smart with an edgy attitude, and tough, but with a feminine flair. It's also a challenge because it's a lot of lines to learn, but life's about challenges. And I get to ask the audience questions and make a connection with them, and I like that."
Grimes-Marin is also delighted to be performing with the Clifton Dinner Theater again. "It's great fun to do this," she said. "This is my second show with the group and they're such nice people. I enjoyed myself immensely before, and I was thrilled that they asked me to audition. I was a theater major in college, and this is a great opportunity to do something I love and always wanted to do."
She said the audience will enjoy trying to figure out the whodunit, and the ending will be a surprise. Besides that, said Grimes-Marin, "The whole town hall is transformed for the show, and everyone's so enthusiastic about the food and the setting. It's just a joyful experience."
The actors have been rehearsing since early January, and directing the 11-person cast is Centreville's Charlotte "Charlt" Yakovleff. It's her third year directing this company and she says things are going wonderfully.
"The cast has been really dedicated about getting their lines and characters down," she said. "They've developed their characters well and brought them all to life. They also helped get their costumes together and gave me notes on how to enhance the production."
Excited to bring this show to local audiences, Yakovleff said they'll like "the zaniness of the characters and the evolution of the production, overall. They'll leave saying, 'Wow, that was a really unique concept for a play, with a good, creative twist.' I think they'll be shocked by the ending."