McLean — On Feb. 26, Churchill Road Elementary held its first annual "Art Helps" art show and auction. Coordinated by Churchill art specialists Jenny Whiteman and Julie Brodzik, the event emphasized the difference that students can make in their community through art.
The students learned firsthand that this impact was not only visual, but also inspired action in others, while raising funds for worthwhile causes. Students in each grade level—from kindergarten through sixth—helped at booths showcasing their artwork. The products include limited edition notecards, postcards, ABC books and posters.
Photo Gallery
'Art Helps' at Churchill Road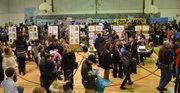 Click Photo for Flash
There was also a silent auction featuring quilts, decks of hand drawn cards and large murals.
The more than $7,000 in proceeds from the art sale and auction went to a diverse group of charities, including the Chesapeake Bay Foundation, the ASPCA, the Alternative House (for abused and homeless children), the Peace Corps, FONZ, DC Learns literacy organization and MedStar Georgetwon Pediatrics.
The evening also included performances by CRS band, strings, drum line and musical theater club members, as well as a pizza and baked goods sale.
More like this story