Vienna Volunteer Fire Department [VVFD] hosts community-wide public events and fundraising events from craft shows and scrapbooking workshops to an annual food festival. Some events, such as the family-focused Fire Prevention Week Open House and the department's pancake breakfasts, are presented as good-neighbor offerings.
Fundraisers direct the proceeds back to VVFD; the Auxiliary bought the new canteen truck for the department.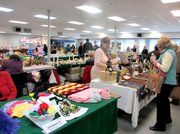 The craft fair on Saturday, March 9, brought in local vendors and shoppers from the community. The Auxiliary sold lunch and refreshments throughout the day, and members donated baked goods.
"Everything we [VVFD Auxiliary] do goes back to the community," said Auxiliary president Joan Dempsey. "That's what we're all about."
Vendors selling food products, fabric crafts, novelty pieces and jewelry, rented space from the Auxiliary and each contributed a prize for VVFD's raffle. "Our vendors have been, historically, very generous and have given more than we asked for," said Dempsey. Volunteers accepted donations for baked goods and trinkets from Vera's Attic. The Auxiliary sold its member-compiled cookbook, favorite recipes from fire department family, the community and supporting friends. All raffle prizes were donated.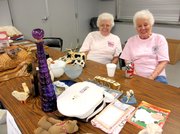 "I buy something most of the time," said Margaret Portwood, Vienna. "I found something good, going to show it to my husband. I love craft fairs."
One of Vienna's most-anticipated food-focused events is the 2nd Annual Taste of Vienna, sponsored and hosted by the Vienna Volunteer Fire Department. In 2013, Taste of Vienna is on Saturday, April 27, running from 11 a.m. to 8 p.m. in the parking lot of the fire station at 400 Center St. S., across from Waters Field. Held rain-or-shine, the parking lot fills with the tables of 35-plus local restaurants, including Vienna's most well loved food spots. Live entertainment is planned and the Auxiliary will sell its cookbook, as well.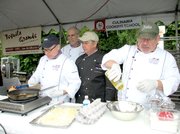 On the Taste of Vienna participant list to-date are Culinaria Cooking School, Donato's Pizza, Tara Thai Vienna, Vienna Inn, Church Street Pizza, Chef Geoff's Tysons, Sweet City Desserts, Robek's Fruit Smoothies, Famous Dave's BBQ, Maplewood Grill, Seasons 52, Mad Fox Brewing Company, Crepe Amour, Turmeric, Noodles & Company, Pure Pasty Co., Caffe Amouri, Bazin's on Church, Whole Foods Market Vienna, The Fresh Market, Brio Tuscan Grille, Ya Hala Authentic Lebanese Cuisine, Maple Avenue Restaurant, La Sandia, Outback Steakhouse, Pazzo Pomodoro, and Plaka Grill.
For more information on Taste of Vienna, go to www.tasteofvienna.org or www.facebook.com/events/237494859717281/?ref=ts&fref=ts.