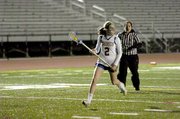 Fairfax — Robinson junior Maggie Hyland was having a career-best night when she took a lacrosse stick to the face with less than three minutes remaining in a tightly-contested rivalry match-up against the Lake Braddock Bruins.
Lake Braddock sophomore Jade Samec was sent off the field with a red card for clocking her opponent. Hyland returned to the offensive end, moving her jaw up and down to assure everything was in working order.
"I thought I was going to have to be taken out," Hyland said after the game. "That hurt. … I didn't want to get taken out. That was the last thing I wanted to do, so I just fought through it."
Hyland stayed in the game. As a result, it was the Bruins who were taken out.
HYLAND SCORED from free position with 16 seconds remaining, giving the midfielder a career-high eight goals and lifting the Robinson girls' lacrosse team to a 13-12 victory over Lake Braddock on Tuesday night at Robinson Secondary School. Hyland scored five goals in the second half, including the Rams' final three.
"She's definitely our go-to girl," second-year Robinson head coach Liz Case said. "She definitely has the moves. She's a phenomenal player; it's almost like a magnet with her stick. … It's one of those things, too: She needed to take that lead on the attack and she definitely stepped up and she did phenomenal."
"It's one of those things, too: [Maggie Hyland] needed to take that lead on the attack and she definitely stepped up and she did phenomenal."

—Robinson girls' lax coach Liz Case
Hyland's goal with 9:52 remaining gave the Rams a 12-11 lead. Both teams went scoreless for the next nine minutes before Lake Braddock junior attack Kristen Gaudian delivered her sixth goal of the evening, tying the score at 12-all with 45 seconds remaining. Robinson called timeout after the goal and Hyland responded with the game-winner.
Lake Braddock defeated Robinson 16-10 last season. It was the Bruins' first victory over the Rams in at least a decade. On Tuesday, Lake Braddock built leads of 3-0, 5-1 and 6-2, but Robinson responded by scoring the final five goals of the first half and led 7-6 at halftime. Gaudian scored back-to-back goals to give the Bruins an 11-9 lead with 16:19 remaining in the contest, but the Rams answered by scoring four of the final five.
The game included five lead changes and neither team led by more than two goals during the final 30-plus minutes.
"We did great," Lake Braddock head coach Victor Chen said. "We did very well. We executed. Couldn't ask for anything more. Got to give Robinson credit, [the Rams are a] very-well coached team and I knew they'd be out for this one. We did the best we could. We've got to make some adjustments, obviously, and we'll use this game as a good learning experience … and we'll come back from it."
Case said she has stressed solid defense and eliminating fouls to the Rams. Robinson wasn't carded on Tuesday, while Lake Braddock received three yellows and a red.
"The red card was just kind of a motivation for me," Hyland said. "It was saying they're being rough and illegal and we are not. We went through this whole game with no yellow cards, no red cards [and] barely any illegal checks, which was awesome for us—that was an improvement. Our coach was very proud of us at the end for that."
Freshmen Taylor Caskey and Kaitlin Luccarelli each scored two goals for Robinson and senior Megan Barlow added one.
Junior attack Grace Youn scored three goals for Lake Braddock. Samec finished with two goals and freshman Kyra Hayden scored one.
LAKE BRADDOCK dropped to 0-2, including a 14-5 season-opening loss to Oakton on March 15. The Bruins will face Cape Henry Collegiate at 4 p.m. on Friday, March 22, during the North vs. South Invitational at Cape Henry.
"We're exactly where I wanted to be at this point of the season, anyways," Chen said. "… Our goal is to peak at the district tournament. It's a tough loss to swallow, no doubt, but we're not going to hang our entire season on this one particular game."
Robinson improved to 2-1. The Rams opened the season with a 10-6 victory against Paul VI on March 13 and lost to Stone Bridge 15-10 on March 15. Robinson will travel to face Marshall at 7:30 p.m. on Thursday, March 21.