The Lorton Community Action Center (LCAC) presented Christine Herbstreith, a Lorton resident since 1954, with the organization's Founders Award at LCAC's "Spring into Action" Gala on Saturday, March 2, in front of a crowd of more 200 attendees.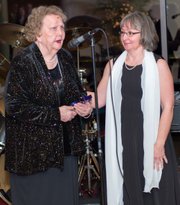 Herbstreith was the driving force behind the founding of LCAC in 1975. A long-time member of Cranford United Methodist Church in Lorton, she attended the event with her granddaughter and her son.
Upon receiving the award, she extended her "heart-felt gratitude to God and everyone who has been involved with LCAC over the years," both clients and supporters. A long-time champion for education, Herbstreith and other community members became concerned in the early 1970s after seeing the growing number of children in the Free and Reduced Lunch program at Gunston Elementary School.
She formed an action "committee" in 1973 and by 1975 LCAC, an independent non-profit organization, was born. Thanks to her passion and tireless efforts LCAC was created to respond to the needs of community residents and give southeast Fairfax County a voice.
"Thanks to her vision and tenacity, LCAC was able to establish a permanent presence behind the Lorton Community Library," said Linda Patterson, LCAC's executive director, who presented the award on behalf of LCAC.
The "Spring into Action" Gala is LCAC's largest fundraiser generating vital operating support for the organization's services, including the food pantry, self-sufficiency programs, emergency rent/utility assistance, case management, after-school programming and tutoring.
The gala was held at Harbour View Event Center on the Occoquan River and included a Silent Auction, a "Wall of Cubes," dinner and dancing to the Johnny Artis Band.
"The event generated more than $120,000 for LCAC, thanks to the tireless work of Chairs Jean Laib, Marilyn Mutchler and Barbara Redmon as well as dozens of other volunteers and the generous support from numerous donors," Patterson said. Donors are: Platinum Donor EnviroSolutions; Titanium Donors Covanta Energy, The Perlin Foundation, Barbara & Tim Rizer and Patricia & David Tikkala; and Gold Donors Harbour View Event Center, Richard Hausler, Molly & Bill Lynch and Sentara Healthcare.
To learn more about LCAC and how to become involved, visit www.lortonaction.org or call 703-339-5161.