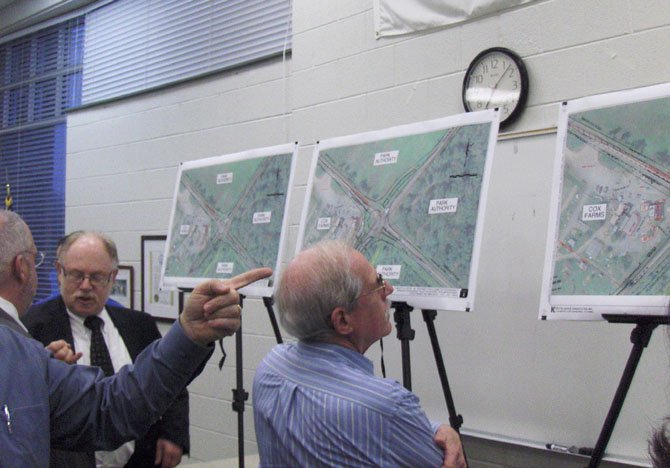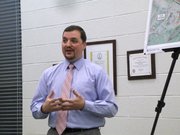 At Monday night's meeting about plans to fix the Braddock/Pleasant Valley roads intersection, VDOT's Bill Cutler said early cost estimates for the project are in the $3 million to $4 million range. But, he added, utility relocation, environmental problems and land-acquisition costs could raise the price.
Virginia Run's Steve Logan asked how getting traffic through that intersection quicker would affect the Braddock/Route 50 intersection and the already-dangerous S-curve on Braddock. Engineer and project consultant Chris Tiesler said there'd be "the same amount of vehicles, but it's hard to measure [before it happens]."
However, Mark McConn of Bull Run Estates said, "The S-turn is a major problem now. If you add more traffic to it, it'll be a problem down to Lee Road."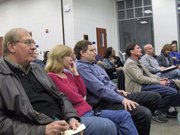 Another resident noted that 16,000 new homes are being built in that area (on the Loudoun side), and Tiesler acknowledged that traffic there is predicted to increase in the coming years. "But those roads won't be four-laned," he added. "So at some point, there'll be a tipping point [where it won't be faster to take them than other roads]. We're just trying to improve the driver experience through that intersection."
"Is this circle to slow traffic down or move it?" asked Sully District Transportation Commissioner Jeff Parnes.
"It's processing it more efficiently and controlling traffic speeds through it," replied Tiesler. "And it's a single-lane roundabout to minimize the impact."
But resident Chris Terpak-Malm was alarmed. "I only live a couple hundred yards from [this intersection]," she said. "People in my neighborhood and in Virginia Run think that South Riding people will never let us in, unless there's a break. It happens to me all the time. You let them go even faster and Pleasant Forest and Virginia Run will never get out of their neighborhoods. That's the fear — you'd be giving South Riding the right of way."
"To me, the only fair way to have breaks in the traffic so we can get through is to put in a stop light," she continued. "I've seen roundabouts elsewhere and people blast through them — they do not yield."
Tiesler said VDOT did traffic-volume counts there in fall 2012, and Virginia Run's Ted Troscianecki asked if data was collected on the direction traffic was going at certain times. Tiesler said it was and that "in the a.m., over 50 percent was traveling west to east; in the p.m., it's going west."
"So if a majority of morning traffic is going west to east, wouldn't a broader solution be to address the S-curve?" asked Troscianecki. Cutler agreed, but noted "there's no money prioritized toward that."
Virginia Run's Greg Richter said fixing the intersection "would just move the problem to the top of the S-curve. But in the next six months, more money may be available to do this."
But Supervisor Michael R. Frey (R-Sully) said most of that transportation money would be for interstates and primary highways and for 2014 and 2015. "We're not going to count that money until it comes," he said. "And the S-curve may not be where the money falls."
Saying he often drives to Leesburg in the morning, Virginia Run's Jim Hart said, "Some mornings, Route 50 traffic is backed up to the Fairfax County Parkway. So improving this intersection without telling us how much more Route 50 east traffic would be attracted to it may not be an improvement for us. At least now, we can dribble through to go north on Pleasant Valley. So how does this help us?"
"It's a horse trade," answered Tiesler. "This isn't meant to be a panacea. It's really hard to say how much more traffic will shift back to Braddock from Route 50. [This intersection's] congested now, but people still wait and use it. We're trying to fix a hot spot that's been a thorn in everybody's side for a long time."
Hart said that intersection floods now and "the ditches get full of water. It seems to me there'd be more water with more pavement."
"We'll slightly raise the intersection and put pipes beneath it," replied Cutler. "But it's complicated because we also don't want to damage the ecosystem there. It's a balancing act."
Still, McConn said the whole area should be considered in the plan "because this'll impact everyone." But Frey said Fairfax County got the same arguments when it first proposed widening Poplar Tree Road and putting double left-turn lanes on Stone Road.
"Prince William and Loudoun traffic is going to come through us and, if we do nothing, they'll overwhelm us," he said. "This is an incremental improvement, but it's something. Other road projects — Route 606 in Loudoun and Route 50 here — will all help the situation. That's the nature of progress. And the concerns you all have will be taken into consideration."
But Troscianecki said the residents are just asking VDOT to think things through. "Our questions need to be answered more adequately," he said.
Cutler said they'd like to return in early fall with a preliminary design, plus some answers to the community's questions. He'd like construction to start in 2014 and said it could take a year to finish.
Meanwhile, residents' comments may be sent to Frey at the Sully District Governmental Center, 4900 Stonecroft Blvd., Chantilly, VA 20151 or at Michael.Frey@fairfaxcounty.gov, and he'll relay them to VDOT.