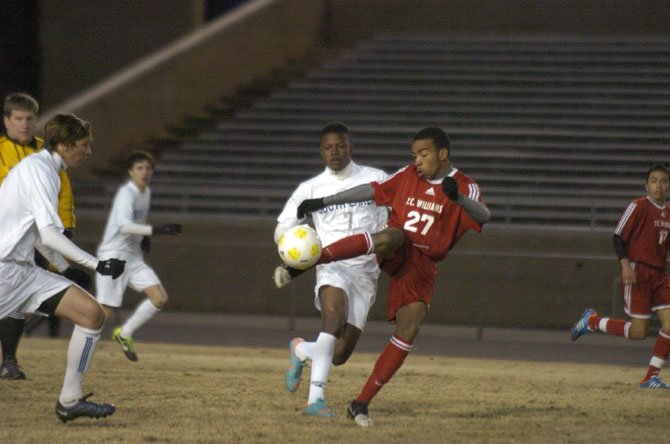 Reston — The T.C. Williams boys' soccer team's work in practice and Eryk Williamson's recognition of goalie placement helped the sophomore deliver a game-winning goal for the Titans.
Locked in a scoreless tie on March 14, South Lakes was called for a foul near the box early in the second half, giving TC a free kick. Sophomores Williamson and Kevin Ortez set up near the ball. Williamson would take the kick.
"We've been working on it lately and I just saw the keeper too far to the right," he said, "so I just bent it around the wall and it went in."
Williamson found the net in the 44th minute, giving the Titans a lead they wouldn't relinquish. Momodu Jalloh added a goal in the 48th minute and the Titans defeated the Seahawks 2-0 at South Lakes High School.
"When you get into [a free kick] right around the box," TC head coach Martin Nickley said, "I feel it's a shot situation and that's what you should do is put the ball in the net."
TC improved to 2-0 for the season, including a 1-0 win over Chantilly in the season opener on March 12.
"I think if we just work a little harder," Williamson said, "games wouldn't be this stressful."
TC did not allow a goal in its first two games. Nickley said the Titans' back-to-back shutouts have been a combination of strong play from sophomore goalkeeper Edgar Martinez and the team's defenders.
"I felt like we were doing a good job of closing them down on their shots," Nickley said after the South Lakes game. "… The keeper did a great job and I think our defenders really were stepping to the ball well."
TC will travel to face Mount Vernon at 7 p.m. on Thursday, March 21. The Titans will host Falls Church at 4:30 p.m. on Tuesday, April 2.