Fairfax County police charged two Springfield men after connecting them with a series of burglaries that took place in the Burke area during the afternoon hours of March 19.
Andrew Kovch, 27, of Vogles Way and Jimmy Le, 23 of Grey Fox Drive were charged with burglary, attempted burglary and grand larceny.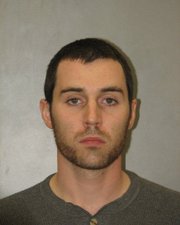 Shortly before 1 p.m. on March 19, officers responded to a report of a burglary from a homeowner in the 9800 block of Lake Meadow Court. The homeowner reported encountering a young man wearing a gray, hooded sweatshirt and dark pants in the home. The suspect fled in a dark, late '90s compact car.
Ten minutes later, according to police reports, officers responded to an alarm of a residence in the 10000 block of Waterside Drive. A door had been forcibly opened but no people were located. A short time later, police responded to a home in the 8600 block of Norfolk Avenue in Annandale for a resident reporting that she'd spotted an unknown man in her home. The suspect fled, but witnesses described the vehicle and a second person that was picked up nearby.
Upon hearing the look-outs, patrol officers observed and stopped a vehicle matching the description on Roundabout Way in Springfield. In the course of the investigation, officers found that the driver was armed with a semi-automatic pistol. Officers reported they found more than 200 rounds of ammunition, a loaded revolver, a mask, gloves, as well as property that could link the suspects to the crimes inside the vehicle.
"We're grateful to residents who paid close attention to details and called us right away, as these crimes were occurring," said Captain Joe Hill, Commander of the West Springfield Police District. "Thanks to good communications, our officers were able to link these men to these crimes and make apprehensions."