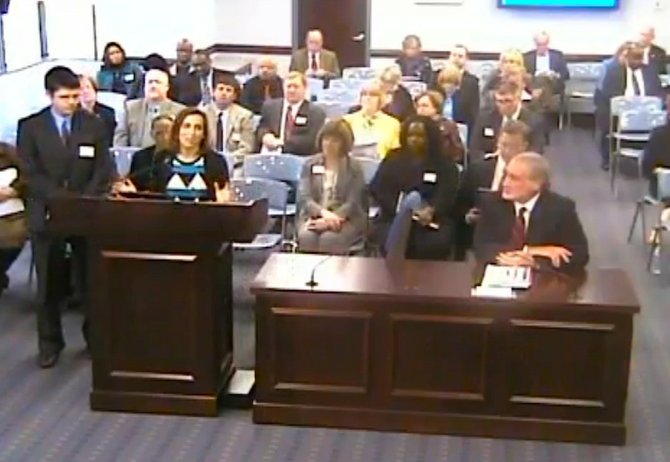 Even as central administrators in Alexandria have finally entered into a memorandum of understanding with state leaders to turn around a troubled school, Republican Gov. Bob McDonnell is considering legislation that would seize control from local leaders. That could cast a cloud of doubt over a newly created memorandum of understanding between the Alexandria School Board and the Virginia Board of Education. It also leaves unanswered questions about who will control the school in the future.
"This is unchartered territory," said Charles Pyle, spokesman for the Virginia Department of Education. "Whenever you enter unchartered territory, there are some things you are not going to know until the issues actually come up."
The way the bill is currently drafted, supervision of Jefferson-Houston would transfer from Alexandria City Public Schools to the newly created Opportunity Educational Institution. The local school division would transfer per-pupil funding to the institution, which means that local leaders would no longer control how money is spent at the school. What happens next will be determined by members of the Opportunity Educational Institution Board, who would be appointed by the governor and General Assembly.
"They will step in and chart a course of action that they determine is best suited for that school's needs," said Paul Logan, spokesman for the governor. "They'll look at why the school is not performing, and create a plan."
THE LEGISLATION gives board members three options. One would be to transform Jefferson-Houston into a public charter school, which would make it the first charter school in Northern Virginia. The commonwealth currently has only four charter schools, so the mechanics of how it would work have yet to be fully realized. A second option available to board members would be to reorganize the school and return it to Alexandria City Public Schools. Then again, board members also have a third option — they can oversee the school themselves.
"I think it's a good idea for new people to step in and take over," said Bea Porter, whose grandson attends the school. "The local school system has failed Jefferson-Houston for too long."
The potential takeover comes at a time of transition for the school, which has failed to meet accreditation standards 10 of the last 11 years. Recent years have seen an increasing decline. In the most recent set of test scores, for example, only 29 percent of black students showed basic proficiency in math. And only 46 percent of students with disabilities at Jefferson-Houston could demonstrate basic English skills. That's become cause for alarm in Richmond, and a desire to see some oversight outside Alexandria City Public Schools.
"The situation at Jefferson-Houston has been a grave concern to all of us for many years," said David Foster, president of the Virginia Board of Education.
LAST YEAR, board members were critical of Alexandria school officials for moving too slowly to hire an outside consultant to step in and help guide transformation at the school. Central administrators signed a contract in late December with American Institutions of Research, which conducted a review of the school and made recommendations. Since that time, a series of corrective actions have taken place. One, for example, reassigned an eighth grade math teacher and brought in a replacement.
"Yea, it caused a ripple," Chief Academic Officer GwenCarol Holmes told members of the Virginia Board of Education last month. "But that was for about 24 hours, and then everybody was back on board saying this is what we've got to do for these kids."
The future of Jefferson-Houston is uncertain. Members of the General Assembly can still add amendments to the bill before the governor considers it. The governor may not sign the bill, although that seems unlikely because he identified it as one of his major goals for the year at the beginning of the session. Then again, Jefferson-Houston might make accreditation before the Opportunity Education Board seizes control of the school in the fall of 2014.
"We believe we are going to make accreditation," Superintendent Morton Sherman told state board members last month. "We'll have a conversation in June or July, and I hope I'm not here saying, 'Oops.'"