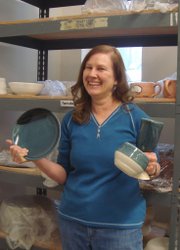 In an area where the median household income is above $100,000, how can there be 47,000 students eligible for free and reduced lunches? But this is the case in Fairfax County, where one in six do not have sufficient resources to meet daily expenses. The Giving Circle of HOPE is making a difference by hosting Empty Bowls, an event that raises funds to fight hunger, on Friday, April 12. In its sixth year, it hopes to best the almost $22,000 raised last year for Food for Others.
Food for Others provides more than 2.4 million pounds of free food to families and individuals in Northern Virginia. According to Roxanne Rice, executive director of Food for Others, located in Fairfax, "The cost of living in this area is enormous and with the tightened economy many of our clients are working but earn too little money to meet basic expenses and unexpected expenses such as health problems."
Cathy Waters, from Reston, chairman of the Empty Bowls event, said she loves the sense of community Empty Bowls provides, "bringing us together to help others in our neighborhood who are facing food emergencies. Fighting hunger with free food provides a basic need of those who are struggling to get out of poverty."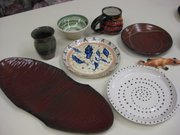 The idea for Empty Bowls came from an art teacher in Michigan in 1982 and the idea has spread across the United States and internationally. "Whether you are one of the potters who makes bowls, one of the restaurants or bakeries that makes soup or bread, one of the sponsors who supports the event financially, one of the Girl Scouts who assists at the event, or a member of The Giving Circle of Hope, we are neighbor helping neighbor," Waters said.
This year Empty Bowls will be at the Floris United Methodist Church, 13600 Frying Pan Road in Herndon on Friday, April 12, from 5:30 to 8 p.m. Each individual will pick out a bowl made by a local artist and dine on soup, bread and a dessert that is provided by local restaurants and bakeries. Pre-event tickets are $20 and can be purchased by mailing a check made out to Food for Others to The Giving Circle of Hope, P.O. Box 8832, Reston, VA 20195. Tickets at the door will be $25. All proceeds from the sale of tickets go directly to Food for Others because the bowls and food are donated by generous local artists, merchants and individuals. For additional information email at emptybowls@givingcircleofhope.org or call 703-665-9334.