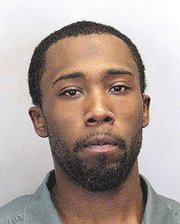 Fairfax County police have charged an Alexandria man with the March 9 burglary of a Chantilly home. He is Victor T. Ellis, 25, of Fairchild Lane. The offense occurred in the 3600 block of Great Laurel Lane. A resident told police she was sitting in the kitchen when someone entered the home. The intruder stole a purse and fled. A K-9 team and helicopter helped search for him to no avail.
However, on March 10, around 10:45 a.m., detectives arrested Ellis and charged him with burglary, entering a vehicle to commit a crime and petit larceny. He was apprehended after reportedly fleeing from officers in a vehicle that day, around 6 a.m.
Police said he led them in a pursuit beginning at the Fairfax County Parkway and Leesburg Pike and ending in a crash in Loudoun County. Ellis evaded capture until he was seen by officers in the Herndon area, where he was taken into custody. There have been several, recent burglaries in the Fair Oaks and Reston police districts, as well as in Loudoun County, and police believe they may be related. These cases are still under investigation.
Anyone with information is asked to contact Crime solvers at 1-866-411-TIPS/8477, e-mail www.fairfaxcrimesolvers.org, text "TIP187" plus a message to CRIMES/274637 or call police at 703-691-2131.
Fair Oaks CAC to Meet
The Citizens Advisory Council of the Fair Oaks District Police Station will meet Tuesday, March 26, at 7 p.m., in the roll-call room of the police station. It's at 12300 Lee Jackson Memorial Highway in Chantilly.
Sully District Council Meeting
The Sully District Council of Citizens Associations and its Land-Use Committee will meet Wednesday, March 27, at 7 p.m., in the Sully District Governmental Center, 4900 Stonecroft Blvd. in Chantilly. Call Jeff Parnes, evenings, at 703-904-0131. Agenda items are as follows:
Fairfax County's Fairfax Forward plan to replace the APR (Area Plans Review) land-use process is ready for a public hearing. The panel will receive an update briefing.
Verizon Wireless has identified a gap in wireless coverage and service in the local community. Verizon Wireless and Milestone Communications have applied to have a wireless telecommunications tower at London Towne Elementary.
The panel will learn about proposed changes to the Dulles Discovery parcels on both sides of the Air and Space Museum Parkway, east of Route 28.
Free Carseat Inspections
Certified technicians from the Sully District Police Station will perform free, child safety carseat inspections Thursday, March 28, from 5-8:30 p.m., at the station, 4900 Stonecroft Blvd. in Chantilly. No appointment is necessary. But residents should install the child safety seats themselves so technicians may properly inspect and adjust them, as needed.
However, because of time constraints, only the first 35 vehicles arriving on each date will be inspected. That way, inspectors may have enough time to properly instruct the caregiver on the correct use of the child seat. Call 703-814-7000, ext. 5140, to confirm dates and times.
Food Donations for WFCM
Western Fairfax Christian Ministries' food pantry urgently needs donations of spaghetti sauce, canned fruit, rice (2-lb. bags), canned pasta, peanut butter, canned tuna and meat, hot and cold cereal, fruit juice, and pancake mix and syrup. Bring all items to WFCM'S new food-pantry location at 13888 Metrotech Drive, near Papa John's Pizza and Kumon Learning Center, in Chantilly's Sully Place Shopping Center.
Meals on Wheels Volunteers
Fairfax County needs Meals on Wheels drivers in Chantilly and group Meals on Wheels coordinators in both Chantilly and Fairfax. Contact Volunteer Solutions at 703-324-5406, TTY 711, VolunteerSolutions@fairfaxcounty.gov or visit www.fairfaxcounty.gov/dfs/olderadultservices/volunteer-solutions.htm.
Give Caregivers a Break
Fairfax County needs Respite Care volunteers throughout the county to give family caregivers of a frail older adult a well-deserved break. Volunteers visit and oversee the safety of the older adult for a few hours each month. Volunteers are matched with families in or near their own neighborhoods. Support and training is provided. Contact Kristin Martin at 703-324-7577, TTY 711, or Kristin.Martin@fairfaxcounty.gov.
Women's Self Defense Program
The Fairfax County Law Enforcement Foundation is partnering with the Fairfax County Police Department to offer the Women's Self Defense Training program. It's based on the SAFE program formerly provided by the Police Department, but now being taught by C&J Security Corp.
The program is a two-day class that will meet on consecutive Tuesday and Thursday evenings from 6:15-9:30 p.m. It's currently offered free and all class materials are included. Program funding is provided through the Fairfax County Law Enforcement Foundation.
The course is offered to females, age 13 and older. A female guardian must accompany girls 13-18. No men other than the instructors are permitted to be present during a class. For more information, call 703-246-7806, e-mail WSD@fairfaxfoundation.org or go to www.fairfaxfoundation.org.