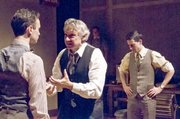 Where and When
1st Stage presents "Never the Sinner" at 1524 Spring Hill Road, Tysons Corner, showing now through April 14, 2013. Performances: Fridays 8 p.m., Saturdays 2 & 8 p.m., Sundays 2 & 7 p.m. Tickets: $15-$25. Call 703-854-1856 or visit www. 1ststagetysons.org.
It was the "trial of the century" that mesmerized the nation in 1924. Two teenage college students, Nathan Leopold and Richard Loeb, went on trial for the murder of a 14-year-old boy. They were defended by the most famous defense lawyer of the day, Clarence Darrow. These facts and the ultimate outcomes are easily found on Wikipedia.
Yet with so many later trials of the century with their own lurid details for new generations, perhaps interest in Leopold and Loeb has faded, except for a very few?
The 1st Stage production of "Never the Sinner" by John Logan shows that a good tale, no matter how well known, still with some mysteries left to explore, can be absorbing in the right hands. "Never the Sinner" is well worth a visit, even with script flaws that drag the piece with some cumbersome details.
Under the deliberate, laser sharp, almost restrained direction of Jeremy Skidmore, the audience becomes both witness and jurors as "Never the Sinner" unfolds to its foreordained conclusion. Thankfully playwright Logan has left one meaty mystery item for the last line; one that brings an unexpected twist to who did what and why. Who could imagine a nickname could have such significance.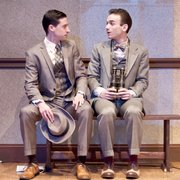 Skidmore's almost hushed approach to the production delves deeply into the personal relationship between Leopold and Loeb, their thinking, their feelings, how they speak, even their kisses. They are treated as living without arousal even as they intellectually contemplate taking someone's life, just to see if they can do it.
The actors are up to the task. Leopold (Stephen Russell Murray) and Loeb (Alex Mandell) are cool in their throttle-down mode and mood. Voices are rarely raised, though at times more emotion might have added some menace. As Clarence Darrow, Michael Kramer is whip-smart folksy. He comes across as a man who wants to reshape how punishment is meted out in his aria-like monologues with an unseen judge and his debates with the prosecutor (Eric Lucas).
The technical aspects of the 1st Stage production are of a sepia tone in this jazz age radio style drama. The set, lighting and sound design are seamlessly one. They fit together like handsome, burnished, expensive wood.
For those who crave stimulating theater, with something to chew on and a challenge to their regular entertainment fare, "Never the Sinner" is a good catch. And it's in the neighborhood.