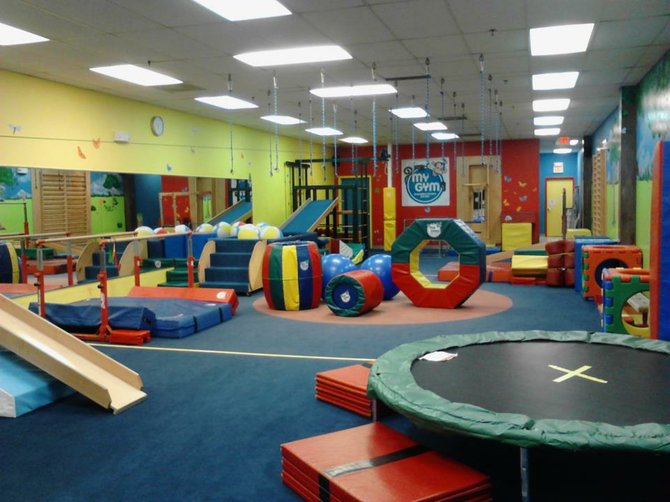 From the time he met her six years ago when the two were serving as Peace Corps Volunteers in Morocco, Tom Dannan knew that Michelle Connelly loved working with children. Just before joining the Peace Corps, she'd spent two years as the director of the My Gym Children's Fitness Center in Annapolis, Md., and always talked about how much she wanted to open a children's gym someday.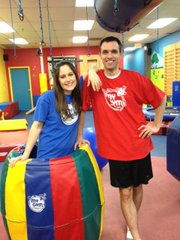 After flirting on and off, the couple began dating in 2009, were engaged eight months later, and got married this past October. In August, Dannan accepted a position with a small contracting firm in D.C. under the Department of Health and Human Services, and Michelle, who'd just finished her Masters of Public Health at Columbia University in New York and was finishing a short-term contract for Save the Children, spent the fall applying for long-term positions in D.C.
In November, Michelle learned that the My Gym in Burke was on the market from long-time owners Carmen and Rafael Cotto. That day, when Michelle picked Tom up from work, and had the usual chat about his work and how her job search was going, she asked, "Okay. What have I always wanted to do?" to which Tom instinctively knew the answer. "Open a My Gym?" Three months later, the couple signed a purchase agreement.
Michelle now works at the gym full-time, and Tom helps out on nights and weekends on top of his daytime job. Together, they average over 100 hours per week at the gym teaching classes and hosting birthday parties, in addition to cleaning, organizing, and marketing the business. Though it's been a busy past month—they spent their first Valentine's Day as a married couple hosting a special "Parents Night Out" for the children—on top of the current nerve-wracking state of the local economy with uncertainties about sequestration and budget battles, the couple is excited for the opportunity. "This is the kind of job where I wake up every day and am excited to go to work," says Michelle. "It's a big risk, but also the biggest dream of my life." Tom echoes that, "I never imagined I'd be doing this, but I love it," says Tom. "It's a great change of pace from my other job, and I really enjoy getting to play with the kids and hear all the funny things that come out of their mouths. Plus, I get to spend all that time with Michelle."
The couple is planning an Open House on Friday and Saturday, April 5th and 6th, where they'll be formally introducing themselves to the community while showing off the gym's renovations and new equipment. There will also be lots of giveaways, face painting, and special games for the youngsters. People who sign up during the Open House will get free lifetime membership, 30 percent off classes for their first four weeks, and a $25 gift certificate to the gym. The couple will also be auctioning off gently used gym equipment and donating the proceeds to a local children's charity. For more information, visit their website at www.mygym.com/burke.