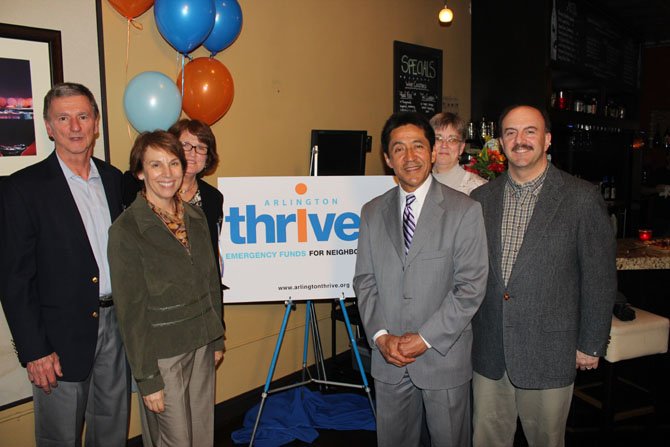 Arlingtonians Meeting Emergency Needs (AMEN) will now be known as Arlington Thrive. The Arlington nonprofit's new name and a new logo featuring the tagline Emergency Funds for Neighbors in Need were unveiled to friends, supporters and Arlington county officials on Monday night, April 29, at an event at Twisted Vines Bottleshop & Bistro.
Most of Arlington Thrive's clients are the working poor, elderly and disabled residents on a fixed income, and the homeless and formerly homeless who need Thrive's funds as a safety net until they are able to get back on firmer financial footing. Families with children get the highest priority, and one-third of those served by Arlington Thrive are children.
With four part-time staff and 30 volunteers, Arlington Thrive serves over 3,500 clients every year, providing an average of $3,200 in emergency assistance per weekday. The nonprofit responds to requests for assistance on behalf of clients from Arlington County social workers as well as private social service organizations, such as Arlington Street People's Assistance Network (A-SPAN), Doorways for Women and Children, the Alexandria-Arlington Coalition for the Homeless (AACH), and Northern Virginia Family Services.
See www.arlingtonthrive.org