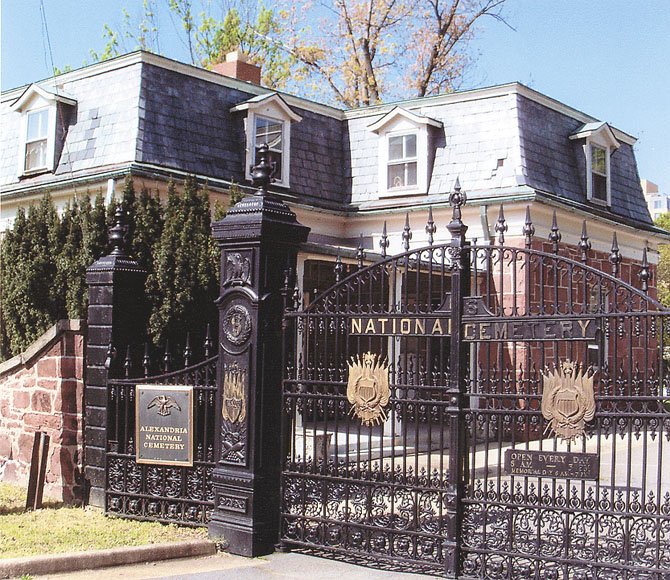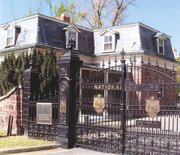 Anywhere else in the city, it would appear out-of-place in size and design. But being the lodge — or gatehouse, as many say — at the entrance to Alexandria National Cemetery, the building is a perfect fit.
Montgomery C. Meigs, Quartermaster General of the Army, is remembered for ordering that Federal troops be buried all over the plantation estate of Robert E. Lee. Today, that place is Arlington National Cemetery.
When the Civil War ended, Meigs remained in uniform and as a trained engineer was in charge of numerous major construction projects of the national government. The District of Columbia aqueduct system, which pipes water to Arlington, Falls Church and Fairfax County, was one project. Others include completion of the Capitol dome and erection of the Pension Building, now named the National Building Museum.
Meigs lost a son in the Civil War. Holding deep feelings about the debt owed to those who died for the nation, his personal involvement comprised a network of national cemeteries for the remains of fallen soldiers. Alexandria's own national cemetery is the prototype developed by Meigs in 1862. It appears in state and national historic registers.
FOR MANY years, the lodge has been rented to Russell Mitchell Post 609, Veterans of Foreign Wars. Primarily used as office and meeting place, Post 609 has permitted temporary access to other organizations, such American Legion and Daughters of the American Revolution. William M. "Bill" Jones, Commander of Post 609, takes pride in noting his members have conducted many patriotic ceremonies on the grounds. Events have included citizenship education for school children and instruction on flag etiquette for Boy Scout units. As to the lodge, Jones said that "being permitted to use it has been a privilege and an honor beyond description."
Alexandria National Cemetery is almost closed. Its small area holds just over 4,000 remains. Fewer than two dozen reservations for interment are on file, and opportunities for inurnments number under 100. With so little present and prospective "business," a resident manager is not warranted. Administrative responsibility rests with the senior official at Quantico National Cemetery, Steven E. Fezler.
Restoration of the lodge as closely as possible to Meigs' original vision is the object. "The lodge itself is an important piece of history," Fezler said, "and deserves to be preserved." He adds that the restoration work would be hard to separate from the fundamental task of his agency: Honor the dead who offered themselves in service to the nation.
Fezler has nothing but good words for Post 609: "They have cared for the lodge in an outstanding manner. The same can be said of the way they treat the entire cemetery." He credits the success of events like placement of flags on graves each Memorial Day to the participation of Post 609. On a more mundane plane, Fezler points to daily attendance upon the large official flag. If Post 609 was not assuming that responsibility, "I would have to send a member of my Quantico staff to Alexandria every day, twice a day. What they do and the manner in which they do it is greatly appreciated."
Upon expiration of Post 609's lease this month, and with a growing number of work orders identified, the Department of Veterans Affairs saw the way clear to award a contract for restoration the lodge. The term "restoration" was selected with care. Upgrades of hidden plumbing and electrical work will be undertaken and any lead paint or modern toxins will be removed. But in the end, the goal is to make the lodge appear as it did when inspected by Meigs 150 years ago. Performance of the work is scheduled for one year, but the period might run over if unknown conditions come to light.
"To the maximum extent possible," said Jones, "Post 609 will continue to support the cemetery and events held there. We sincerely hope to return when construction is completed." Asked for comment, Fezler indicated it was too early to make such a decision, but gave assurance that post-restoration utilization of the lodge would be decided with the utmost care, all factors considered.