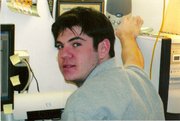 Neil Kelly, 31, a lifelong resident of the Fort Hunt area of Alexandria, died on April 22, 2013 at Mount Vernon Hospital.
He was a 1999 graduate of West Potomac High School, and a 2007 graduate of George Mason University with a B.S. degree in finance. In high school Neil was a top player for the men's tennis team. During Neil's youth he played baseball and basketball in the Fort Hunt league. His love of basketball led to coaching which he enjoyed. He previously had also been a referee for the league.
After college Neil worked for Dell Corporation, and previously at the Department of Interior as a computer specialist. Neil was a huge sports fan, and enjoyed watching most sporting events, but especially the Caps, the Nationals, NBA Basketball and the Redskins.
Neil leaves behind his parents, Robin and Mike Kelly, and brother and sister, Alan and Jillian Kelly. He also leaves behind his grandmothers, Emily Corbin of Alexandria and Marquerite (Stevie) Kelly of Winnsboro, SC. He comes from a large family and leaves many loving aunts, uncles and cousins. To all Neil was fun to be around, had a great sense of humor and was the most loving and caring person to all. He will be missed and loved forever.
A service will be held at Aldersgate Church on May 11, at 2 p.m.