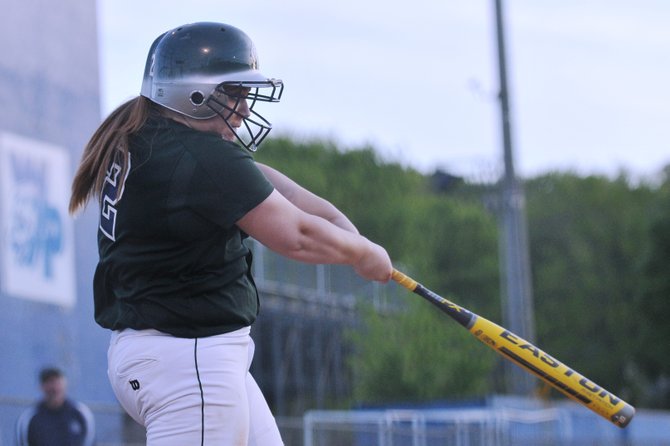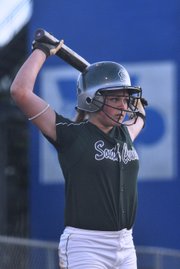 Alexandria — Friday's South County-West Potomac softball contest had the makings of a pitcher's duel when Haylea Geer came to the plate in the top of the third inning.
With two on and two out, the South County junior catcher broke a scoreless tie with a three-run laser over the center-field fence.
"It was really exciting," Geer said. "I think right off the bat I kind of knew it was over --- plus the wind really helped."
Jade Williams was on deck for the Stallions when Geer went deep. What was Williams' reaction to the blast?
"She was like, how am I supposed to compete with that?" Geer said.
Williams' encore provided plenty of power.

The freshman followed Geer's blast with a solo homer to left-center, giving South County a four-run lead en route to a 7-0 victory at West Potomac High School. The home run was Williams' second of the season. Geer also has two.
"I think it set the tone pretty well," Williams said about the Stallions' back-to-back bombs.
South County extended its winning streak to 10 games while improving its record to 15-1 overall and 11-1 in the Patriot District. Success is nothing new to the Stallions, a program with six consecutive Patriot District championships under its belt, but this year South County is lighting up the scoreboard in a brighter fashion.
South County averaged 7.9 runs per game in 2012. In 2011, the Stallions averaged 6.4. In 2010, when Yale University pitcher Chelsey Dunham was a senior at South County, the Stallions scored 6.8 runs per game. This season, South County is averaging 11 runs per contest and has scored fewer than 10 runs in a game only four times. In 16 games, the Stallions have outscored their opponents 175-12. Seven of the 12 runs South County has surrendered came against Lake Braddock on April 3, when the Bruins handed the Stallions their only loss to date.
"I think that we have a great chance to go really far this year," Geer said. "This is one of our most powerful offensive teams that we've had."
Along with Geer and Williams, junior shortstop Whitney Burks and junior third baseman Caitlin Maglich have also homered this season for South County. Freshman outfielder Carley Kastner just missed hitting a home run on Friday, instead settling for a double off the wall in left field.
"Pretty much everybody in this lineup's got the potential to hit the ball over the fence and we've never really had that."

--- South County head coach Gary Dillow
"Pretty much everybody in this lineup's got the potential to hit the ball over the fence and we've never really had that," South County head coach Gary Dillow said. "Prior years, it was all about pitching and defense and getting enough hits to win the game when Chelsey was here. [This year,] we've got good pitching and then we can hit with anybody."
After South County's back-to-back homers Friday, Burks delivered an RBI single in the fifth inning and later scored on a wild pitch, increasing the Stallions' lead to 6-0. Sophomore second baseman Cara Yates drove in a run with a single in the sixth.
Junior pitcher Rebecca Martin earned the victory.
The Stallions, who have outscored their opponents 114-2 during their 10-game winning streak, will host Woodson at 6:30 p.m. on Tuesday.
"We're peaking like we want to be," Dillow said. "This is the time of the year that we want to start playing our best softball and that's what we seem to be doing right now."