Photo Gallery
McLean Day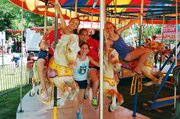 Click Photo for Flash
The McLean Community Center's (MCC) annual community festival McLean Day 2013: "Celebrating Our Hometown" draws a large crowd of residents and local businesses and organizations together once a year to celebrate their "hometown." Although the festival has grown over the years, the essence of what makes it great is the hometown feel that emanates throughout the park. Neighborhood children take rides together, old friends catch up with one another and the entertainers on stage are the relatives, friends and coworkers of the people in the audience. McLean Day 2013 will be held on Saturday, May 18, from 11 a.m. to 5 p.m. at Lewinsville Park, 1659 Chain Bridge Road. Admission is free.
How it All Started
The McLean School and Civic League originally sponsored the festival in 1915 as a way to raise funds for school and community projects. The first McLean Day was held in a field adjacent to Franklin Sherman School. Over the years, various community organizations have kept McLean Day going with varying degrees of success. In the mid-1970s McLean Community Center (MCC) began producing McLean Day and in 1988, due to a large increase in the number of participants, it was moved to Lewinsville Park.
Vote for Members of the MCC Governing Board, 10:30 a.m.–5 p.m.
The center asks residents of Dranesville Small Tax District 1A, the district that supports the center through a special real estate tax, to cast their votes to elect and reelect members to the 2013-2014 MCC Governing Board. The election will be held from 10:30 a.m. to 5 p.m. at a booth just inside the entrance to the park. Residents may vote by absentee ballot if they are unable to attend the festival. Voting instructions and candidate information are available online at the center's website: www.mcleancenter.org. Completed absentee ballots must be received by 5 p.m. on Wednesday, May 15, to be counted.

Ride On! Unlimited Ride Bracelets Discounted
There is good news for big carnival ride fans at the festival. This year the cost of the unlimited ride wristband has been reduced to $15. The $5 decrease should reduce the amount of time patrons spend at the ticket sales booth. Ticket sales for the large rides will begin at 10:30 a.m. and will end at 4 p.m. Tickets must be purchased with cash only. Reithoffer Shows is providing a number of large carnival rides, including the Orbiter, Full Tilt, The Ring of Fire, Pharaoh's Fury, Starship 3000 and bumper car rides. A special area called the KidZone Midway features a variety of free small, mechanical rides and bounces for toddlers and small children.
Back for a third year, Games 2U of Huntingtown, Md. will have field games, such as laser tag and archery tag on the soccer fields along with games sponsored by McLean Youth Inc. A rock climbing wall, carnival games, pony and train rides, face painting and the popular Octopus Slide, sponsored by Drs. Luposello & Marzban, DMD, PC, are only a few of the many activities available at the festival.
World-class Food Options
Food vendors are located all around the park selling everything from entrees (skewered chicken, beef, barbecue ribs, turkey legs, hot dogs, pizza, crab cake sandwiches) to snacks (kettle corn, French fries, popcorn, chips) to sweet treats (funnel cakes, cotton candy, sorbet, ice cream, candy apples, cupcakes) to beverages (soda, smoothies,coffee, lemonade, ice tea, water). There will be a large tent with picnic tables available near the largest row of food vendors.
Rock, Jazz and Dance on the Stage
The Alden Stage at McLean Day will provide a wide variety of entertainers. Seth Kibel will serve as the new master of ceremonies. He also performs with the Seth Kibel Bay Jazz Project. Little dancers who are enrolled in the center's Joy of Dance classes will begin and end the day with their performances. Brother and sister rock duo, Davison, and the McLean High School Jazz Ensemble also will perform. In addition, the McLean Citizens Association will present its annual Teen Character Award at 3 p.m.
Parking and Free Shuttle Service
Parking is not available at Lewinsville Park on the day of the festival, so MCC strongly encourages participants to use its free shuttle service. Starting at 9:30 a.m. and continuing throughout the day, shuttle buses will run to the park from McLean Baptist Church, 1367 Chain Bridge Road; Lutheran Church of the Redeemer, 1545 Chain Bridge Road; and MCC, 1234 Ingleside Ave.
Parking also is available at the Lewinsville Senior Center, 1609 Great Falls St., and the center will run airport-style shuttle carts from Evers Drive, located at the rear of the building, to the park all day.
Let's All Have Fun
Patrons are encouraged to be aware of their surroundings and to report suspicious activities to center staff and police and fire personnel. Alcohol, cigarettes and other controlled substances are not permitted on the grounds. Political candidates and other vendors must contain their activities to their assigned booth spaces. Soliciting is not allowed outside of the booth areas or on the grounds of the park during McLean Day.
For festival updates, driving directions, shuttle bus stop locations and a festival area map, visit: www.mcleancenter.org/special-events or call the center at 703-790-0123/TTY: 711. The center's telephone will be answered from 7 a.m. to 5 p.m. on the day of the festival.