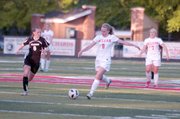 McLean — McLean junior Maire Shine put pressure on the Madison girls' soccer team early in their May 2 contest, taking touches and firing shots.
While Shine came up empty in the first half, the outside midfielder would eventually crack the Warhawks defense with the help of a teammate.
McLean senior Shannon Kuzmick scored the game's lone goal on an assist from Shine in the 52nd minute and the Highlanders defeated the Warhawks 1-0 at McLean High School.
Shine found Kuzmick in front of the net for the game-winner.
"Our outside-mid, she's fantastic," Kuzmick said about Shine. "I knew she was going to be able to get it to the goal, so I just continued in and thought I could help it along in case it didn't go in."
McLean improved its record to 7-3-2, including 4-1-1 in the Liberty District. The Highlanders can clinch the No. 2 seed in the district tournament with a win against Marshall when the teams face one another at 7 p.m. on Wednesday, May 8, at McLean High School.
"I think we're in a great position," Shine said. "We're in control of ourselves. We set our own destiny. As long as we take care of Wednesday, we'll finish second and that puts us in a good place."
Shine leads the Highlanders with nine goals, according to stats from allmetsports.com.
"She's a great leader for the team," McLean head coach Rob Bouchard said. "She's been a great leader this whole season. She's a playmaker and the kids look up to her. We just move her around and get [her] touches wherever she's best."
Bouchard said sophomores Audrey Freeman (defender), Caroline Meier (midfield/forward) and Clare Beahn (midfield/forward) have also been key contributors.
The win over Madison came two days after McLean suffered a 5-1 loss to first-place Stone Bridge—the Highlanders' most lopsided defeat of the season.
"We couldn't be more proud of the way they had a short-term memory and they came out the next game ready to play," Bouchard said. "Their destiny is in their hands for how they can finish in the district. [Madison is] a very well-coached team … and to be coming out here and to do that performance against them tonight, I can't be more proud of such a young team."
McLean is the two-time defending Liberty District champion and captured the 2011 AAA state title.