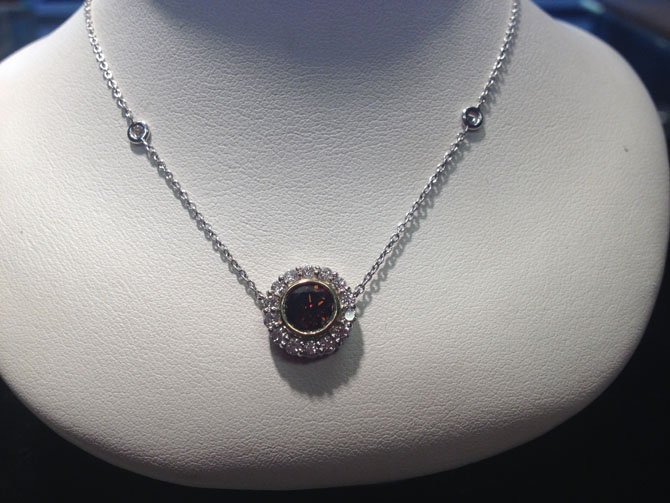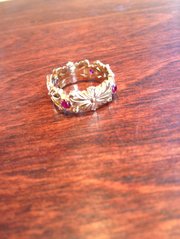 Mike Grantham of North Potomac shuffled from one jewelry display case to another. His eyes surveyed each row of sparklers: yellow and white diamonds, deep blue sapphires and blood-red rubies.
"Are you looking for something in particular?" asked a saleswoman.
"I'm not quite sure what I am looking for," he said, his dazed expression revealing his bewilderment. Mother's Day was two weeks away and Grantham was still gift-less. "I need to buy something for my mom," he offered. "She likes earrings and diamonds and she has big hair. But she's very picky."
Whether it involves selecting a hand-engraved locket or a diamond-encrusted bangle, confusion like Grantham's is common. Jewelry is one of the most frequently offered tokens of gratitude on the day set aside for honoring the women who bore us. But the dizzying array of options, from emeralds swathed in platinum to turquoise beads strung on silk cords, can baffle even the savviest of shoppers.
Local experts say there are a few things that everyone should keep in mind before embarking on a fine jewelry buying adventure.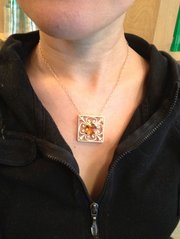 Discerning the recipient's taste or design preference is a good place to begin. Look for clues in the type of jewelry she wears on a daily basis, say experts. Lifestyle is another consideration. "Is she active? Does she like big earrings or does she like dainty things?" asks jewelry designer Lindy Kavanaugh, a graduate of the Gemological Institute of America and a former jewelry appraiser for Tiffany & Co. in New York. "Does she wear a lot of bracelets? Does she wear white gold, yellow gold or silver?"
When it comes to metals, jeweler and goldsmith George Kaufmann, who co-owns Robert Bernard Jewelers in Potomac, says platinum and gold in 14-karat and 18-karat are the alloys seen most often in the United States. He adds that 18-karat is softer and less durable than 14-karat. "However, if the piece is made right, whether it is in 14-karat or 18 isn't going to matter," said Kauffman.
Kavanaugh added, "Rose gold is really popular right now and yellow gold has always been popular because it has a richer look to it." She suggests choosing a color that complements one's skin tone.
Both Kauffman and Kavanaugh create original designs for their clients. Artisan jewelry and handmade, custom pieces often come with a higher price tag than their mass-produced counterparts. The tradeoff is originality, craftsmanship and sentimentality, however.
"You're getting a one-of-a-kind piece. You're paying for the luxury of not passing your necklace 50 times on the street or seeing the girl behind the counter at Starbucks wearing it," said Kavanaugh. "You're also paying for the jeweler's knowledge and time."
Kauffman added, "A handmade piece will be finished nicer because I can get inside all the nooks and crannies and polish and then assemble it," he said, referencing one of his creations: a chocolate and white diamond pendant.
Patrons often walk through Kauffman's doors bearing gemstones and commissioning wearable treasures, he says. During more than 50 years in the jewelry business, he has seen the best and worst of stones.
"Sometimes the quality of a stone is obvious," he said. "For example, you don't have to be an expert to recognize a good emerald. My grandchildren can tell the difference. The bottom line is, before you buy a stone or any piece of jewelry, you have to know and trust who you're dealing with."
Kavanaugh adds that it's also important to do your research: "You have to educate yourself about enhancements. Many stones are treated, and synthetics and simulants can be confused with natural gemstones," she said. "If you're investing in … a nice piece of jewelry, ask questions. With anything, whether it's diamonds or sapphires or pearls, you want to educate yourself and know what you're getting."
For example, Kavanaugh says a strand of pearls is a classic gift, but notes that the variance in price and quality available to consumers is as wide as the oceans from which they're dredged. "When buying pearls, you have to make sure you're comparing apples to apples," she said. "You want to look at the luster of the pearls and make sure they're matched nicely. Look at the clasp and make sure it is heavy and well-made."
On Mother's Day, some jewelry experts emphasize sentimentality and recommend giving women charms engraved with the names or initials of each of their children. Grantham, however, left the jewelry store with diamond hoop earrings set in white gold, still nervous about his choice. "I guess Mom can always return them," he said.