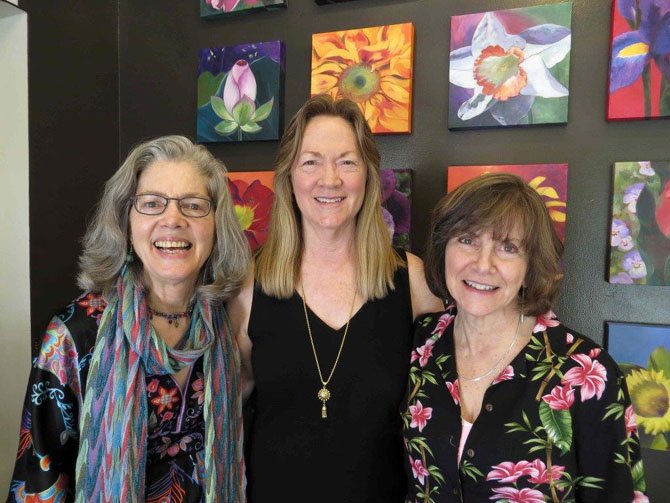 The Art Gallery of Potomac is alive with spring flowers and garden landscapes. Its latest show, "Blooming," features the artwork of three local artists who have chosen their most vibrant pieces for this show. The opening reception is this Saturday, May 11 from 6 – 9 p.m. and the Artist's Talk is on Saturday, May 18 from 2 – 3:30 p.m.
– or stop by during business hours to peruse or purchase This is also a place to pick up that one-of-a-kind gift for mom for Mother's Day. Artists' note cards, small books of original art and prints will be available for sale. "Blooming" runs through May 26.
The show brings together Art Gallery of Potomac resident artist Dot Procter and her two friends Ruth Marcus and Karul Lasher, guest artists. Procter has known Marcus since 1991, when they met in art classes at Glen Echo. She and Lasher have been friends even longer — since 1976 when they both were employed at the same non-profit. Lasher had been living in Brussels, Belgium for many years until she moved to Northern Virginia five years ago. "We decided that we all love gardening and flowers — and could put together a show featuring our best paintings of the flowers we love to grow," said Procter.
Even though the three artists' styles are different, the paintings all indicate a love of the vivid colors of nature and a glimpse at the diversity of flowers in local landscapes.
Procter has several different types of paintings in this show. Some capture the grandeur of the Chateaux in France. "Giverny," a 60"x48" acrylic on canvas brings Monet's gardens to life in a painting that is rich with color and light. "Chateaux Boudoir" and "Chateaux Entrance Bouquet" portray the intricate patterns and hues that highlight the Chateau Chenonceau in the Loire Valley. "Color drives my work," she said. "The colors found in nature never cease to delight me."
Procter is also featuring her "intuitive" tempura on paper paintings. These are art pieces in which she starts painting without a plan — and sees where it ends up. "I never really know where it is going," she said. "I do these for my own healing and well-being." She also has included luscious tempura on paper flower paintings. Proctor's mother and grandmother were both artists who taught her a lot about painting. After they died, she studied art with Walt Bartman at Glen Echo for two years. "He taught me how to translate light into color."
Marcus' wall of dramatic flower images — 12"x 12" acrylics on canvas — provides a multicolored juxtaposition of such flowers as tulips, irises, Virginia Bluebells, pansies, sunflowers, magnolias, daffodils and more. Marcus said, "What appeals to me is the emotional impact of the colors, shapes and textures that I see. Each painting becomes a journey filled with unexpected turns."
When she was thinking about how to fill the wall, she decided to paint her floral acrylics to honor the memory of her dear friend James Moore who died in February. "He was an artist who was always an inspiration to me," she said. "We often shared all kinds of information about painting. I worked with his wife at The Dalton School in Manhattan for many years and we were all close friends."
Lasher's watercolors are quite different from the other two artists in the show. Lasher begins her art pieces with a rough drawing of the image and then sketches in the elements of each flower. She paints layer upon layer until her work depicts her subject exactly as she wants it to appear. The results reveal lovely colorful flowers that are rich in detail.
The Art Gallery of Potomac is located at 9945 Falls Road (in back of the Bike Shop) in Potomac. Telephone 240-447-9417 or 301-320-0093. The regular hours of the gallery are 12 – 4 p.m., Wednesday through Sunday.