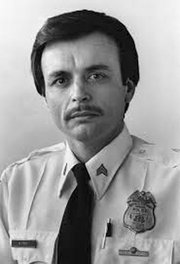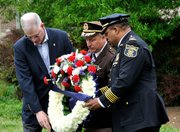 Dozens of active duty and retired law enforcement personnel joined Chief of Police Earl Cook and Sheriff Dana Lawhorne as they placed a wreath at the Police Memorial in Waterfront Park May 6 to pay tribute to Alexandria police officers and sheriff's deputies who have died in the line of duty.
Cook read each of the 16 names inscribed on the memorial, dating back to Constable Elijah Chenault, who was the first reported officer killed in the city in 1823, and ending with Corporal Charles W. Hill, who was slain in March of 1988.
As part of National Police Week 2013, the name of Alexandria Police Sergeant Morton Ford will be unveiled on the wall of the National Law Enforcement Officers Memorial during a candlelight vigil ceremony May 13. A 26-year APD veteran, Ford died June 18, 2011 from health complications related to a gunshot wound suffered in the line of duty.
Other Police Week events include the Officer Down Memorial Page 5K run, the Police Unity Tour Arrival and Wreath Laying ceremony and National Peace Officers Memorial Day Service on the West Front Lawn of the Capitol.
For complete details about National Police Week 2013, visit www.policeweek.org/schedule.html.