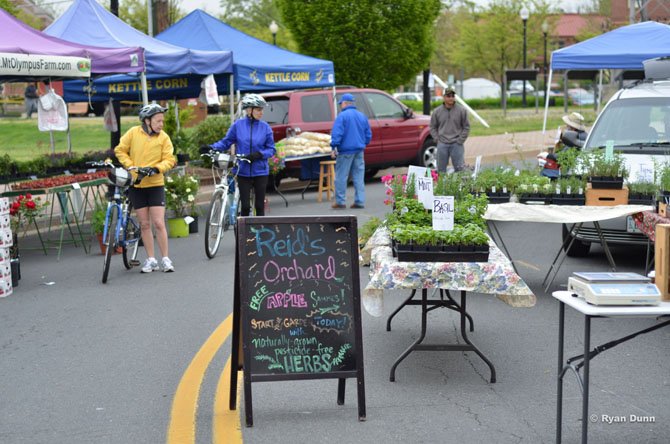 Thursday, May 2, marked the opening of two farmers markets in Herndon, one in the Town of Herndon, and the other at Frying Pan Farm Park. Fairfax County has been a strong supporter of local farmers markets. As stated on their webpage, products sold at farmers markets are produced by vendors within 125 miles of Fairfax County.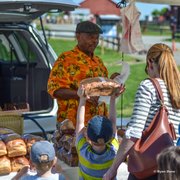 Town of Herndon forester John Dudzinsky, who supervises operations of the town's farmers market, said: "We have extended our hours from 8 a.m. to 12:30 p.m. as we are trying to get more of the lunch time crowds. We have 13 vendors total, lots of produce, vegetables, plants, baked goods and fruits. Next week, starting on May 9, we will have some music entertainment, and that will occur once a month. We will have kids Famer's Market Fun Days which will start July 11."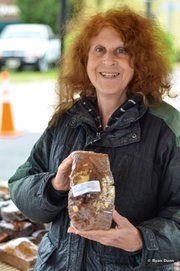 The Herndon Fun Days will be on Thursdays from July 11 to Aug. 29 with performances from 10:30 to 11:15 a.m. at the Town Green on 777 Lynn Street. The performances will be free and open to the public. "The Town of Herndon is committed to having a successful market," said Dudzinksy.
Vendor Brad McCleaf from McCleaf Orchard said, "This is our first time setting up in Herndon. Our main products will be apples and peaches. We will be bringing mainly fruit because other vendors will be selling vegetable produce. Later we will bring strawberries, blueberries, and raspberries." Like most of the vendors, McCleaf Orchard attends other farmers markets in the D.C. area.
Manny Medina from J&W Valley View Farm also attended this year's opening day of the Herndon farmers market. His parents operate 42 acres of land in Montross, Va. Early season crops for their farm include spring onions, lettuce, spinach and radishes. "The main crop plant we have are tomatoes, we have over five varieties … business will pick up when school lets out."
The same day, Frying Pan Farm Park marked the first day of their farmers market. Sessou Nsougan, who has been selling baked goods including bread and scones at Frying Pan farmers market for more than seven years, titled his products "Becky's Pastries" after his daughter. On the opening day there were only three vendors attending the farmers market at Frying Pan.
Yvonne Johnson, park manager, said: "We changed the day of our market, and we are going through a transition phase adjusting to a new day and time. … We used to do Wednesday morning, and now we moved it to Thursday afternoon. The nice thing about that is that starting in June patrons can stay and enjoy the concert. … We have a concert series in June, July and August."
For more than 10 years there have been farmers markets held at Frying Pan Park. Operations for farmers markets are centralized and organized through staff at Green Spring Gardens Park located in Alexandria. "They help spread out different producers and which markets they will be at," said Johnson.