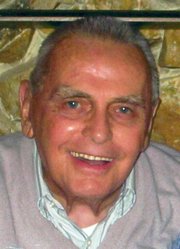 David Edward Jacobs, Jr. of Boca Raton, Fla., formerly of Alexandria, died Feb. 10, 2013 surrounded by his loving wife and family members. He was the beloved husband of Alva Jacobs and the devoted father of a daughter, Barbara Jacobs Evans.
Ed was born in Alexandria on Dec. 15, 1921 to Catherine Fegan Jacobs and David Edward Jacobs, Sr. of 412 South Pitt St., Alexandria, where he lived until 1942. On Oct. 4, 1942 he married Mary Alva McNey of Washington, D.C.
In 1942 he enlisted in the U.S. Navy and served in the South Pacific for 3 and a half years during WW II. He was attached to the 3rd Marine Division during the war, and served on Guam, Bougainville, Guadalcanal and New Zealand.
Ed was a member of St. Mary's Catholic Church, Alexandria, from birth until 2013. He served as an altar boy and attended St. Mary's Primary School and the Brothers' School for junior high. He attended his last three years of high school at George Washington High in Alexandria, graduating in 1941. Both before and after WW II, Ed was employed by Western Electric (Lucent Technologies/AT&T) retiring in 1983 after 43 years with the company. In 1980 Ed graduated with an associate's degree from Northern Virginia Community College.
Ed and his wife, Alva, lived at 710 Chetworth Place, Alexandria, for 50 years where he was an avid woodcarver and topiary artist. His topiary landscaping was featured in the Washington Post in July 1992 and he received several Alexandria Beautification awards for his topiary work. His yard and topiary were on the Alexandria Garden Circuit tours.
Ed is survived by his wife, Alva, of over 70 years; daughter, Barbara and her husband, Richard; grandchildren, Thomas Evans and Wende Bardfeld; and six great-grandchildren, Hayden, Garrett, and Jenna Evans and Jaxon, Landon, and Holdyn Bardfeld.
Funeral service will be conducted at the gravesite in St. Mary's Catholic Cemetery in Alexandria at an yet-to-be determined date. Donations may be made to the American Cancer Society.