Centreville's Kevin Whalen has bicycled in five Police Unity Tour (PUT) rides, but this year was going to be different. Then tragedy struck and changed his mind.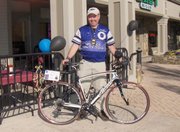 He's a federal agent with the Treasury Department, and his partner there, Tammy Anzenberger, is married to a Prince William County police officer. And that's how Whalen learned about Chris Yung, who died in the line of duty on Dec. 31, 2012 — and in whose honor Whalen will ride this weekend.
"Tammy's husband, Bill, responded to the accident when it happened," said Whalen. "Chris was on his motorcycle, responding to a call to back up another officer. It was broad daylight, he had a green light and had his lights and siren on. But a van pulled out in front of him and he hit it broadside; the motorcycle exploded and he was killed."
At work, said Whalen, "Tammy was really upset and told me about Chris with tears in her eyes. It was just horrific. I wasn't going to ride in the PUT this year because I've got a lot going on with my 87-year-old father and work. But when this happened, I knew I just had to ride for Chris."
So he told Maggie DeBoard, president of the PUT Chapter IV contingent, led by Fairfax County police, that he wanted to return. Within a week, he started training for the grueling, 230-mile ride.
It's this Friday-Sunday, May 10-12, and goes from Richmond to Charlottesville, Warrenton and Centreville and on to the National Law Enforcement Officers Memorial in Washington, D.C. The ride raises money and awareness for the Memorial fund and National Law Enforcement Museum honoring and remembering all federal, state and local law enforcement officers who've died in the line of duty. Nationwide, 120 officers were killed in 2012; Yung was the last one.
The cyclists pedal 93 miles from Richmond to Charlottesville on the first leg of their journey. They'll travel 80 miles to Warrenton the next day and 59 miles more to Washington, D.C., on May 12. That day, they'll bicycle up Route 29 in Centreville, around 9 a.m., en route to a lunch provided by Glory Days Grill before heading to the District for the ride's end.
IN PREPARATION, Whalen's taken spin classes, three times a week, at Life Time Fitness in Centreville. "They're so early in the morning, my dog doesn't even get up for me," he said. "I'll burn 1,000 calories an hour. But that builds my endurance and gets me in shape for the hills from Richmond to Charlottesville and Warrenton and the hill coming up Route 29 by Alto Plaza in Centreville."
On Sundays, he's been bicycling 40-80 miles on the W&OD trail. "But I love it and enjoy it," he said. "And when you're riding two by two on the PUT ride, you get chills and goosebumps and a big high. About 25 motorcycle officers also go along to escort and protect us."
And as he pedals, Whalen will also remember the officer in whose honor he's riding. Yung, 35, left a wife and three children, parents and brother Dale, also a Prince William police officer. Dale and his wife Nancy just had their second son and named him Chris, after his brother.
Chris Yung's name was recently inscribed on the law-enforcement memorial, and Whalen attended the ceremony. "It says on the memorial, 'It's not how these officers died that makes them heroes, it's how they lived,'" said Whalen. "And that's what I hear about Officer Yung — what a great family man, military veteran, partner and community police officer he was."
In turn, Yung's family appreciates Whalen's efforts on his behalf. "It's a great honor for someone to step up and do that rigorous ride in Chris's name — especially since he didn't know Chris personally or have any ties to him," said Dale Yung. "Speaking for the family, no words can say how appreciative we are of him doing the ride."
Yung said this year was going to be the first time Chris bicycled in the Law Enforcement United Ride, also this weekend, from Virginia Beach to Washington, D.C. "So I'm riding in his place," said Yung. "I've never ridden before, and now I understand the kind of training and dedication that goes into it."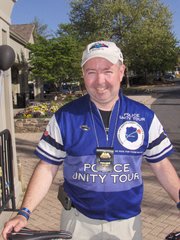 PUT PARTICIPANTS must each raise $1,800 for the memorial fund, and Whalen already reached his $2,000 goal through his Web site, fundraisers, raffles and donations. Anything extra he gets, he shares with riders having a tough time raising money. "It's all a team effort," he said. "I'm helping out the whole team, this way." The Chapter IV team of about 100 riders has so far raised nearly $150,000.
About 25 support personnel also accompany the riders. They arrange for hotels, food, breaks, water and bike repairs along the way. "We take along a bike-repair shop on wheels," said Whalen. "If your bike breaks, they fix it and you're right back on the road."
"And Fairfax County's Fire Department assigns us two ambulances and four EMTs, and that makes us feel good knowing they're with us if we get dehydrated or injured in a fall," he continued. "And Barnes Chiropractic of Centreville is sponsoring the Warrenton hotel stop and giving all 100 Northern Virginia riders 10-minute massages. It helps us recover and get ready for the next day."
This year, said Whalen, it's been difficult finding the time for training and fundraising between his father, his job and his family. But the businesses, such as Glory Days and Coyote Grill, that hosted fundraisers for him, and his sponsors, Barnes Chiropractic and Franklin's Printing, helped give him an extra push by showing their faith in him and the cause.
"This ride lets the community know about the sacrifices law-enforcement officers make to protect them 24/7," said Whalen. "And I think about the Boston Marathon bombing when 2,500 federal, state and local police officers went into the danger — including my office doing the financial intelligence."
"That's what law-enforcement officers do," he continued. "That case was high profile, but we want people to know the good things officers do all the time that people aren't always aware of or take the time to thank them for. So I'd really love this community — whenever they see police officers — to thank them for what they do. Or fly a thin, blue ribbon on their bicycle, car antenna or rear wiper to let the police know they support them."
MORE THAN 1,500 officers come from all over the U.S. to ride from five points on the East Coast in the PUT. On May 12, they'll unite and ride together to the District where their families and the fallen officers' loved ones will be waiting. A check will also be presented to the Memorial chairman; last year's ride raised $1.5 million.
After the tough, hilly ride, said Whalen, the county police helicopter escorts the riders through Centreville as they return home and "it gets us pumped up seeing them." The best part, he said, is "being together with all the officers and seeing people cheering for us along the way. And the biggest high is getting to the Memorial while wearing the name bracelet of the officer you're riding for and meeting his family there."
"I never thought I'd be doing this at age 50," said Whalen. "But in 30 years of law enforcement, I had close calls — and a lot of times where it could have been me [fatally wounded]. So to ride in honor of an officer who's made the ultimate sacrifice is something you want to do to let the family and department know their officer will never be forgotten. The pain, money, time and training are nothing, compared to the sacrifice they made."