Photo Gallery
"Muffins for Mom"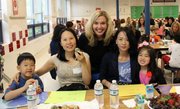 Churchill Road kindergartners celebrated Mother's Day with a breakfast and skits.
Click Photo for Flash
Churchill Road kindergarteners celebrated Mother's Day on Friday, May 10 by hosting "Muffins for Mom." Students in each of the three kindergarten classes (Mrs. Jan Clark, Mrs. Erin Thurston and Ms. Laura Zielinski) worked with art teachers Julie Brodzik and Jenny Whiteman to create hand-stitched squares for their moms, and with resource teacher Corinne Reilly to design pattern-block Mother's Day cards. Choreographed by music teachers Karen Judkins and Danielle Menard-Mazurowski, the three classes performed "Skidama Rinka Dink" and "This Little Light of Mine" for their guests. After the performance, all the parents were treated to homemade muffins and fruit.