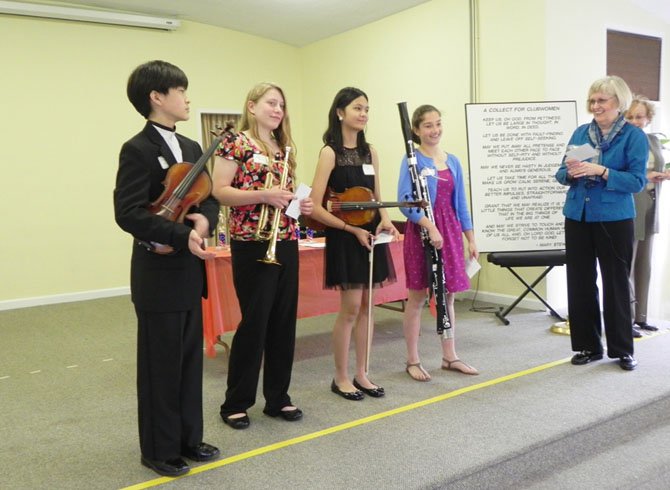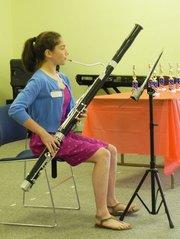 The musicianship of four students at Cooper and Longfellow middle schools, in McLean, was recognized by the Woman's Club of McLean at a ceremony on Tuesday, May 7, where the students also performed on their instruments. Katherine Quion, of Cooper Middle School, played Valse Triste, by Jean Sibelius, on the viola. Nancy Kurtic, also of Cooper Middle School, played excerpts from Chocolats, by Philippe Rose, on the trumpet. Jennifer Steele, of Longfellow Middle School, performed the Bassoon Concerto in F Major by Carl Maria von Weber, accompanied by music teacher Laura Marchisotto Bogart. Finally, violinist Minyoung Hwang, also of Longfellow, performed Czardas, by Vittorio Monti, accompanied by Ms. Marchisotto Bogart. The four students each received an award of $100 from the Woman's Club.
Ten students at McLean elementary schools were recognized for their significant contributions as safety patrol members. The honorees were: Lauren Cain and Luke Voorles, of Churchill Road Elementary School; Nicole Berry and Cameron Carlson, of Kent Gardens Elementary; Hannah Yo and Christopher Gray, of Franklin Sherman Elementary; and Delaney Bond and Zain Zahr, of Spring Hill Elementary. The students received trophies engraved with their names and the names of their schools, and each school received an award of $80 for safety program equipment.
The students' parents and the school principals, music directors and patrol sponsors attended the ceremony, as did Officer Thomas W. Harrington, school resource officer of the Fairfax County Police Department. The award ceremony is an annual event of the Woman's Club of McLean.