The Langley School is bringing back Keith Bogans' Langley Summer Jam, a coed basketball camp featuring NBA veteran Keith Bogans, for the third consecutive summer on the school's campus in McLean. The weeklong camp will run in two separate sessions—July 8-12 or July 22-26—for students entering grades 3-9. The cost is $450 per week. To register, visit www.langleyschool.org or call 703-356-1920, ext. 728.
Students will work on a variety of basketball skills and drills led by Bogans each day, including dribbling, shooting and passing, while learning the fundamentals of sportsmanship and teamwork. The class will be broken into small groups by ability to ensure individualized attention from Bogans, Langley coaches and staff.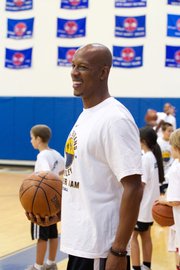 Bogans is currently a forward-guard for the NBA's Brooklyn Nets. Since he was first drafted to the NBA in 2003, Bogans has played for Orlando, Charlotte, Houston, Milwaukee, San Antonio and Chicago, appearing in more than 580 games, including more than 300 starts. A 1995 graduate of The Langley School who played basketball under Athletic Director Jim Gleason, Bogans went on to become a McDonald's and Parade All-American at DeMatha High School. At the University of Kentucky, he was named SEC Player of the Year, First Team All-SEC, SEC Tournament MVP, and Third Team All-America during his distinguished college basketball career.
"We are thrilled to welcome Keith back to Langley for the third summer," says Coach Gleason, who remembers Bogans as being an extremely competitive, hard-working athlete with a great sense of humor. "We are so proud of all that he has achieved on the court and it has been wonderful for him to share his expertise with our students."
"Langley did so much for me, and it's fun to be able to give back in some way," says Bogans. "Langley was a true blessing to me. When I arrived in seventh grade, I struggled academically at first because the academics were so far ahead of what I was used to. But wonderful teachers worked with me and helped me turn the corner. I received an academic foundation and built habits at Langley that made school a lot easier for me from then on. Langley was a family—everyone knew and cared for each other."
Founded in 1942, The Langley School is an independent, coed day school for students in preschool through eighth grade. Situated on a 9.2-acre campus in McLean, the school reaches across multiple disciplines to discover, amplify and embrace the talents of every child, every day.