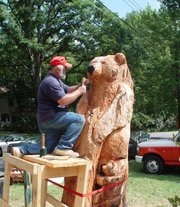 It's not a woodpecker … it's not a beaver … It's the "Wizard of Wood."
Award-winning and nationally renowned sculpting artist Jim Calder is visiting Potomac Elementary School this week and donating his time and skills to convert a huge tree stump near the parking lot into a work of art while PES students give input, learn, and watch the transformation as it happens.
Potomac Elementary School parent Donna Petrocella enlisted Calder who was scheduled to arrive on May 15. He'll first build a scaffold around the stump so he can safely reach the top. Then he will begin the transformation of nature into art. It will take about a week for him to finish the sculpture.
The students are helping to design the sculpture by submitting ideas for its theme and subject. Calder will review their drawings and suggestions and decide what will come out of the stump. Students will also then learn about woodcarving and see the artist in action. Each class will spend time outside with Calder during the week so they can experience the sculpting process. They'll see him use chain saws, knives, gouges and chisels as he manipulates the stump. Each day, as they arrive at school, go out to recess, and leave for home, they'll monitor Calder's progress and witness the stump come to artistic life.
Students will also be able to do their own clay sculpture during classes taught by Calder. He will gives two classes for Potomac Elementary students while he is here, and each participant will learn how to carve and sculpt clay.
As a Kennedy Center CETA (Changing Education Through the Arts) program participant, Potomac Elementary provides its students with a number of opportunities to experience and learn about art.
According to the bio on his website (www.carves4u.com), Calder is a world recognized wood carver, sculptor, artist, painter, and visionary. His comical as well as serious works range from "Roscoe" his hillbilly friend to the "Calder Doors" he carved for a competition in Italy and sold to a private collector in the U.S. Calder began an apprenticeship at 7 years old under Norbert Munson, master furniture and cabinet maker. Calder was recognized as a master carver at the age of 16. Although wood is his favorite medium, he also works with marble, clay and found objects (such as a tree root or rock) to exhibit his skills.