Photo Gallery
Giving Where They Live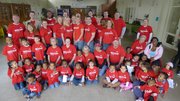 Click Photo for Flash
Associates of the Old Town Alexandria Keller Williams Realty participated in the fifth annual RED Day on Thursday, May 9. RED Day (Renew, Energize and Donate) was created to unite Keller Williams Realty offices and associates in an international day of service.




As part of the RED Day effort, Keller Williams Realty Old Town, Alexandria chose to work with ALIVE, INC to improve its Child Development Center at 2723 King St. in Alexandria.
ALIVE!'s Child Development Center, a full-day preschool program serving children of low-income working parents, is one of the 8 percent of preschool programs nationwide to have earned NAEYC (National Association for Education of Young Children) accreditation.
On Thursday, more than 30 volunteers spent more than eight hours and many thousands of dollars to: replace all of the cots for nap time, replaced eight window air conditioners, replaced all of the light bulbs and globes, installed carpet in all three classrooms and two offices, installed cove base molding throughout, painted the ceilings in all three classrooms, painted the railings and stairs, purchased and installed three white cabinets (one per classroom), installed three pre-made bulletin boards outside of the classrooms, installed a custom bulletin board wall between two classrooms, replaced the two bathroom floors, installed three child size toilets, lowered and moved two of the sinks to be child height and added a second sink to both bathrooms, painted all of the radiators and two doors.
For more information about RED Day, visit www.kw.com/redday
For more information about ALIVE, INC, visit www.alive-inc.org