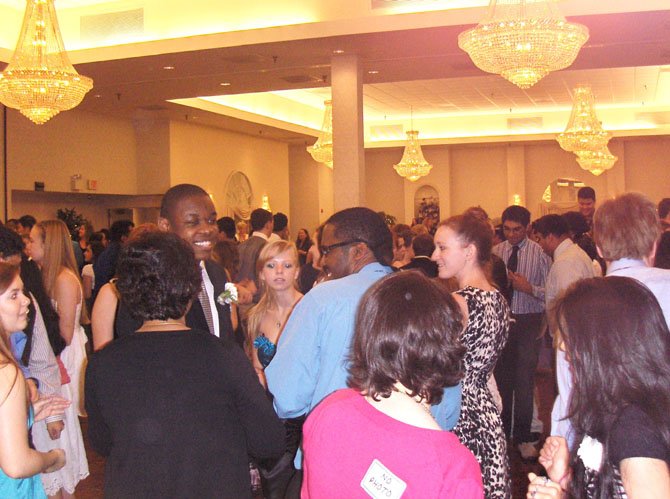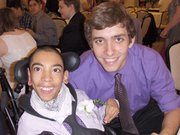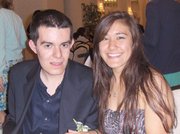 At last week's Day Prom at The Waterford in Fair Oaks, it didn't matter if some of the students attending couldn't walk or talk. For a few hours, they were just like all the other students in their high schools — they were at their school prom.
The girls wore pretty dresses and shoes and the boys wore suits, ties, vests and sport coats. They snacked on pizza and fruit at tables with their friends and kicked up their heels on the dance floor to all the latest songs.
"It's an amazing thing to do," said Westfield High's Julie Bentley. She helps students with disabilities move from high school to the next chapter in their lives. "This prom is more easily accessible for them and there are students here both with and without disabilities."
She said music and dancing are two of the "most motivating and exciting" activities for students with special needs. "And when they come here, we get to see a side of them we don't get to see as often in class," said Bentley. "We get to see their passion and they also get to meet new people and see friends they already know at other high schools."
The special-ed students at the prom had "low-incidence disabilities" that don't preclude them from participating in the community. Still, said Bentley, they often choose not to go to the regular prom that happens at night and involves driving.
So these students came to The Waterford last Thursday, May 9, from 9:30 a.m.-1 p.m., with their Best Buddies from several FCPS schools, including Centreville and Westfield high schools. The atmosphere was fun and joyful, and the Best Buddies were as happy to be at the prom as their partners.
Centreville junior Mike Wallace was there with his Best Buddy, sophomore Juwaan Espinal. And Espinal's wheelchair didn't hinder him, one bit. "I moved him around on the dance floor," said Wallace. "I picked up his back wheels so he could slide back and forth."
Wallace was on the Wildcat varsity football team this season, and Espinal is, too, as an honorary member. "That's when we first met; it was really cool," said Wallace. "And when I joined Best Buddies this year, they partnered me up with Juwaan, so I was happy about it."
Since then, the two teens have had lunch together, every other day, and Wallace visits Espinal during third period when he has free library time. And when they're not in school, said Wallace, "We hang out. We also text a lot, go bowling, get ice cream and go to the mall. It's a blast. It's nice to lend a helping hand, and I know that every little bit I do makes his day better. I'm glad he likes me."
As for the prom, Wallace said, "I think lots of parents wouldn't be comfortable sending their kids [with special needs] to the regular prom. So this is a good way to give them high-school prom experience."
Centreville juniors Stephen Kettell and Elin Woolf were also there together. As Best Buddies, they also enjoy bowling and going to movies. "We went to the special-ed, Valentine's Day Dance, too," said Woolf. "And last Friday [May 3], was his birthday so we went to Guapo's."
Both were having fun at the prom. "Stephen doesn't like dancing, but he's staying out there on the dance floor with everyone and having a good time," said Woolf. "He has a lot of friends in Best Buddies and they danced with him, too. This is something I hope they'll remember forever."
Enjoying pizza with their friends at a big, round table were Best Buddies Sneha Athrea and Sarah Hudson, also Centreville juniors. Hudson said they go bowling "a lot," play basketball together and recently saw the movie, "Here Comes the Boom." Like the others, she, too, is happy being a Best Buddy.
"It's like a different take on friendship," said Hudson. "You learn about other people better and also learn patience and understanding. A lot of the special-needs kids wouldn't feel comfortable going to the general-ed prom. So this is a time for them to just come and have fun, without a lot of pressure."
Some 75 students — both general ed and special ed — are in Centreville High's Best Buddies program. Special-ed teacher and Best Buddies advisor Vicki Hudson said there are always more general-ed students signing up for Best Buddies than she has special-ed students with whom to partner them.
"It's a fun, interesting program and the kids are excited about participating," she said. "And it's popular in the school because the kids talk to their friends about how much fun it is."

Hudson called the Day Prom an opportunity for the students with special needs "to go to the prom like any other kids. The only difference is that this is during the day and it's free. It's all done through donations."
For example, Life Touch donated its services by taking professional photographs of the promgoers, and Target contributed cakes and developed the photos. Money from the Centreville and Lake Braddock Seconday PTAs purchased the pizzas, and other schools involved in Best Buddies contributed refreshments, the deejay, decorations, etc. And The Waterford hosted the event at a reduced rate.
"All you have to do is look at the kids to know this is worthwhile," said Hudson. "They're out there having a ball. The theme every year is, 'A Day to Remember,' and for these kids, it really is."