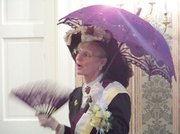 "Mr. president, how long must women wait for liberty?" was the cry of American suffragists in the early 20th century as they campaigned for votes for women. It was echoed by historic re-enactor Lynne Garvey-Hodge of Clifton, as she presented a program about the life and work of the suffragist Mrs. Robert Walker at the May meeting of the Kate Waller Barrett Chapter of the Daughters of the American Revolution.
Mrs. Robert Walker, born Amelia "Mimi" Hines about 1880 in Pennsylvania, was a Quaker, Baltimore society woman, and married mother of three who became an early and active member of the National Woman's Party.
In November 1917, she was arrested with other women's rights demonstrators in front of the White House and sentenced to 60 days imprisonment at the Occoquan Workhouse. In total, 123 women were imprisoned in Occoquan in brutal and violent conditions intended to break their spirit and will. This did not succeed.
Mrs. Walker and her associates continued to campaign for women's rights after their release with Prison Parades in 1918 and 1919. Contrary to government intention, their abusive treatment sparked public outrage and helped move their cause forward to success. The 19th Amendment to the Constitution giving women equal political rights was passed on Aug. 26, 1920.
Garvey-Hodge is a long-time member of the Fairfax County History Commission and is a member of the Turning Point Suffrage Memorial Committee, which is planning a memorial to the women's suffrage prisoners at the site of the Occoquan Workhouse.