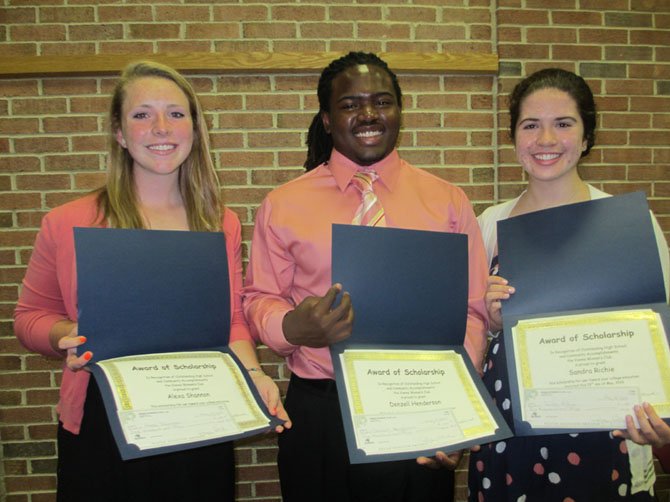 The Vienna Woman's Club celebrated 51 years of scholarship awards on May 15 at a program honoring three local high school seniors and four Vienna elementary schools. The scholarship winners each received a $1,000 check from the Woman's Club.
"The scholarships honor exceptional seniors and their families," said Scholarship and Education Committee co-chair Jo-Lynn Westlund.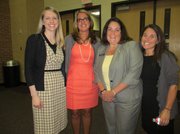 ALL THREE SCHOLARSHIP winners are Madison High School students, a bonanza for a school that takes extra effort to encourage its qualified seniors to apply.
Sandra Richie wants to be a teacher and plans on attending Longwood College. She has a 3.9 GPA and has received the Bronze and Silver awards from the Girl Scouts. She mentors and tutors peers and younger students. "I don't ever want my life to be about money," said Sandra. "I want it to be about inspiring kids."
Alexa Shannon, who has a crew scholarship to the University of Alabama, applied crew as a metaphor for her life's philosophy. "You're pulling not to win for yourself, but you're pulling for the team." Alexa plans on becoming a physical therapist. A member of the National Honor Society, Alexa holds a 3.45 GPA. "If you want to succeed in life, you have to be dedicated and put in the time that comes with it."
Denzell Henderson will attend the University of Virginia-Wise campus, on a partial football scholarship. He graduates with a 3.2 GPA and is captain of his varsity football team. He's also president of the Black Student Alliance and vice president of the Young Republicans club. And he credits his mother, who coaches and mentors, for supporting him. "It's my time to give back to the community and help my family," Denzell said. He plans on majoring in IT management while playing football and studying.
Guest speaker Laurie Genevro Cole, Vienna Town Council member, addressed the scholarship winners, telling them that fame and money are not the only measures of success. "We have to define success on our own," Cole said. "You have what you need to succeed. You have the power to decide what success is to you."
"Find the rewards," said Cole. "Whatever you choose to do, make it your own."
EVERY YEAR, the Vienna Woman's Club donates funds to Vienna, Cunningham Park, Marshall Road and Louise Archer elementary schools. The elementary schools were awarded funding of $500 each to enhance their reading programs for at-risk students.
Louise Archer Assistant Principal Jennifer Condra, Cunningham Park Principal Rebecca Baenig, Marshall Road Principal Jennifer Heiges and Vienna Assistant Principal Vicki Duling accepted the grants on behalf of their respective schools.
Duling said the money will be used to buy additional "Playaway" devices to improve listening skills to third and fourth grade students needing support. At Cunningham Park, said Baenig, the money will go toward targeting children who have never been in preschool and are at a disadvantage. In 2012, Cunningham Park used its grant money for transportation for students to participate in a specialized reading program.
Condra said the $500 will jumpstart Louise Archer's summer program, buying more resources. Heiges said the money will provide reading material for children who would not, otherwise, have them.
Del. Mark Keam (D-35) was on-hand to support the scholarship winners and the Vienna Woman's Club.
To learn more about the Vienna Woman's Club, go to http://viennawomansclub.org/ or e-mail info@viennawomansclub.org. Meetings are held the third Wednesday of the month, 7 to 9 p.m., from September through May, at the Vienna Community Center, 120 Cherry St.