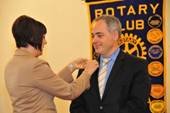 The Rotary Club of Fairfax inducted Dr. Angel Cabrera, the newly-inaugurated president of George Mason University, as an honorary member on April 29. According to Laura Hills, the club's president, "It is our tradition to make the George Mason University president an honorary member of our club. We were thrilled to bestow this honor upon Dr. Cabrera."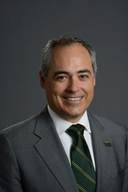 Dr. Cabrera, the sixth GMU president, received a standing ovation upon his induction as an honorary member of The Rotary Club of Fairfax. He then shared his vision for George Mason University with the Rotarians and guests. Notably, he explained an acronym that he referred to as The Mason IDEA.  According to Dr. Cabrera, the "I" in IDEA stands for innovation. Many new ideas are promoted in the classrooms each day at George Mason University, he said, in all aspects of education. The "d," for diversity, is an apt description of George Mason University, Dr. Cabrera suggested, as the institution has one of the highest diversity rates of any university in the country.  The "e," for entrepreneurship, is highly encouraged and taught at GMU, Dr. Cabrera told the Rotarians and guests. And the "a," for accessibility, describes GMU's commitment to providing accessible education, in both face-to-face and online learning environments, Dr. Cabrera said.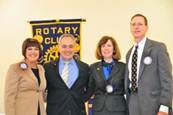 Dr. Cabrera further explained to the Rotarians and guests the construction of the new tunnel below Chain Bridge Road that will make access to facilities much easier for students, faculty, and campus visitors. He urged the Fairfax Rotarians, who represent business owners, public servants, attorneys, educators, and medical professionals in the Fairfax community, to regard George Mason as "their" university. GMU is home to the Center for the Arts, he said, which features theater and entertainment all year. In addition, residents may enjoy GMU sports and take classes at the university and at the Osher Life Long Learning Institute. In closing, Dr. Cabrera said that George Mason University may not focus on being "the best university in the world, but the best for the world."
According to Paula Kelley, vice president of The Rotary Club of Fairfax, "Knowing how extremely busy Dr. Cabrera is, we especially appreciate the time he spent with us. It was a proud day for all of our Rotarians to have him with us and to make him an honorary member of our club."
The Rotary Club of Fairfax meets on Mondays at 12:15 p.m. at the American Legion Hall on Oak Street in Fairfax City. For more information about the Rotary Club of Fairfax, visit the club's website at www.fairfaxrotary.org or email Rotary Club of Fairfax's Executive Director Irby N. Hollans, Jr., at ihollans@earthlink.net.